BEWARE, please! This book contains explicit sexual content and may or may not contain Erotica &/or BDSM content as well. As such, it is not suitable or appropriate for readers under the age of 17 or readers who would be offended by this subject matter. My review may also contain conversation of the same. This warning has been extended to include some NEW ADULT as well.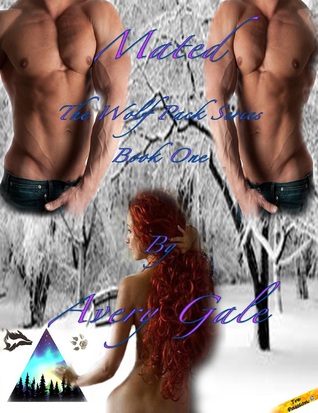 Mated

by Avery Gale
Series: The Wolf Pack #1
on September 29, 2013
Genres: Adult, Fantasy & Magic, Paranormal, Romance
Format: eBook
Goodreads

Centuries of tradition have bound your soul to ours so tightly that neither time nor trial will ever be able to separate us.

In Book One of the Wolf Pack Series: Kit Harris has avoided her parents increasing pressure to marry for years.

Granted, her shifter parents refer to it as mating, but Kit isn't one to split hairs over semantics and the results will be the same. She'll lose her freedom and the idea of answering to an Alpha doesn't appeal to her in the least. Kit also knows that mating will bring on her magical powers and those come with some hefty baggage. After seeing the burden the powers have been to her mother and grandmother, Kit is in no hurry to join in the never-ending battles between good and evil. However, an evening of dancing with a friend ends Kit's hope of avoiding her destiny.

Jameson and Trevlon Wolf traveled the world looking for their mate and almost gave up finding her when she walks into their New York City dance club. However, they quickly discover that convincing her to give them one week to prove that being their mate won't be the end of the world was the easy part—protecting her was going to be a lifelong challenge.

Warning: Sexually explicit content M/F/M
---




Mated is the first book in the Wolf Pack series by Avery Gale.
Wooooo hoooo, this book is full of steamy hot sexy love scenes between twin alpha wolves and an intended mate.
The book is pretty good and in my personal opinion has huge potential to be a great series.  I enjoyed reading it but mostly because I loved the story between the twin alphas Jameson and Trevlon and Kit the shifter witch.  I was in the mood for some steamy love scenes and I got that in spades and Avery Gale sure can kick ass at that.
The reason I say there is huge potential is because of the story behind the witchy goodness going on.  It's different and intriguing and I kind of wanted to hear more about that.  I'm sure the next books in the series will be more about that, but the first book spent more time on the mating, which is understandable, but unfortunately didn't give a lot of insight into the story side of things.  What little bit of witchy things we did get to hear about was great, I just wanted more.


Related Posts