BEWARE, please! This book contains explicit sexual content and may or may not contain Erotica &/or BDSM content as well. As such, it is not suitable or appropriate for readers under the age of 17 or readers who would be offended by this subject matter. My review may also contain conversation of the same. This warning has been extended to include some NEW ADULT as well.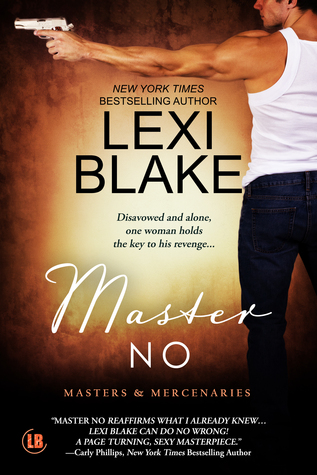 Master No

by Lexi Blake
Series: Masters and Mercenaries #9
Published by DLZ Entertainment LLC on 4 August 2015
Genres: Romance, Contemporary, Adult
Pages: 360
Format: Paperback
Goodreads



Disavowed by those he swore to protect…

Tennessee Smith is a wanted man. Betrayed by his government and hunted by his former employer, he's been stripped of everything he holds dear. If the CIA finds him, they're sure to take his life as well. His only shot at getting it all back is taking down the man who burned him. He knows just how to get to Senator Hank McDonald and that's through his daughter, Faith. In order to seduce her, he must become something he never thought he'd be—a Dom.

Overcome by isolation and duty…

All her life, Dr. Faith McDonald has felt alone, even among her family. Dedicating herself to helping others and making a difference in the world has brought her some peace, but a year spent fighting the Ebola virus in West Africa has taken a toll. She's come home for two months of relaxation before she goes back into the field. After holding so many lives in her hands, nothing restores her like the act of submission. Returning to her favorite club, Faith is drawn to the mysterious new Dom all the subs are talking about, Master No. In the safety of his arms, she finds herself falling head over heels in love.

Forced to choose between love and revenge…

On an exclusive Caribbean island, Ten and Faith explore their mutual attraction, but her father's plots run deeper than Ten could possibly have imagined. With McKay-Taggart by his side, Ten searches for a way to stop the senator, even as his feelings for Faith become too strong to deny. In the end, he must choose between love and revenge—a choice that will change his life forever.

A Masters and Mercenaries Novel by Lexi Blake
---
You know when you're packing that imaginary bag in your head of things to take with you to a deserted island that you cannot live without??? EVER?  Well, the entire Masters and Mercenaries series has made my list. Matter of fact, it IS my list. It may be all I need to survive on the mystery island in my head. Yeah, that and maybe some wine too.
The Lady Is A GENIUS!
Master No is book #9 in the EPIC Masters and Mercenaries series by the PHENOMENAL Lexi Blake! Seriously… she's a frickin' genius!
This book is about Tennessee Smith, (Ian Taggart's friend and old CIA partner) and Ten's enemy, Senator MacDonald's daughter Faith MacDonald. Ten has to hunt down Senator MacDonald since he was solely responsible for Ten's less than desirable leave from the CIA. He needs answers and proof that Ten didn't betray his government and country. He needs to befriend Faith to get to her father and his only way in is to become her Dom. Ten and the McKay-Taggart team band together to bring Senator MacDonald down.
I'm not even entirely sure how to do this review properly.  
It's very hard to talk about this book because I'm so excited about it but I can't elaborate on why I'm excited for fear of letting a spoiler escape.  That's bad enough, but I can't even discuss how wonderful this book was with my husband, whom I normally sound off to, because he's reading A View To A Thrill right now so he's a bit behind me and there is lots that he doesn't know yet. So, it's killing me!
Anyone who follows the Masters and Mercenaries series or Lexi Blake interviews knows that something huge happens in this book that will rock the McKay-Taggart world to the core and the whole team will never be the same.
Nothing will prepare you for this story. 
Trust me. You can go over a million scenarios in your head and even write them all out and build a Pro and Con list (not that I did that… much…) and it won't make a damn bit of difference. The book will still be a huge surprise for you.
"Master No" has it all!
Humour
Excitement
Fear
Anticipation
Elation
Devastation
Grief
Sadness
Loss
Betrayal
Expectation
Frustration
More humour
More sadness and…

HOPE
Oh… and lots and lots of hot sex!  Yeah, that too!
Based on interviews I've read I know that the evil genius that is Lexi Blake has something up her sleeve for the next few books… and that what comes from tragedy in this book will work it's way into an arc of books that will become an epic love story. I said in my last review (Adored) that I trusted Lexi Blake. I still do. She has NEVER let me down as a reader. Oh she brings you to the edge and freaks you out just for shits and giggles, but never lets you down.
In A Nutshell
I'm wholly invested into this series but most importantly into these character's lives. It is my #1 favourite series of all time in any genre. I cannot get enough of these characters and this world they live in. I cannot express to you how much I recommend this series to everyone! It's phenomenal and this book is just as good as the others. The never ending sarcastic humour and loving close-knit family feel among friends where any one would lay down their lives for the other is absolutely a part of my heart and soul. I eat, sleep and breathe Masters and Mercenaries!
"Master No" had me laughing out loud, crying silently, gasping for air and I haven't been able to stop thinking about it days after reading it.
I cannot wait for the next books to see where this story takes us.  BRAVO!!
Related Posts