BEWARE, please! This book contains explicit sexual content and may or may not contain Erotica &/or BDSM content as well. As such, it is not suitable or appropriate for readers under the age of 17 or readers who would be offended by this subject matter. My review may also contain conversation of the same. This warning has been extended to include some NEW ADULT as well.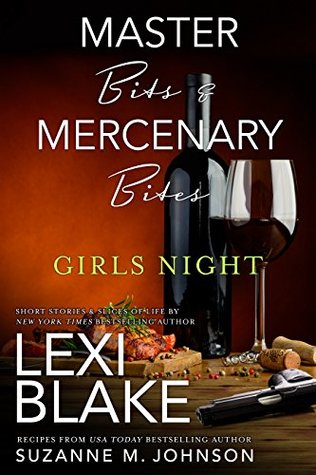 Master Bits & Mercenary Bites: Girls Night by Lexi Blake
Series: Master Bits & Mercenary Bites #2
Published by Evil Eye Concepts, Incorporated on Evil Eye Concepts, Incorporated
Genres: Adult, Contemporary, Romance
Pages: 186
Format: Paperback
Goodreads



From the creators of Master Bits and Mercenary Bites, New York Times bestselling author Lexi Blake and Southern food expert and USA Today bestselling author Suzanne Johnson, comes a new look at the Masters and Mercenaries world—Girls Night.

Join us for easy to cook, delicious recipes and stay for the stories of the women of McKay-Taggart. From slow cooker special dinners to cocktails that will elevate your game, Suzanne will show you that easy can be delicious.

Lexi dives into what happens after happily ever after. Charlie and Ian try to have a night out—but their kids prove that anything can happen when Taggarts are involved. Faith and Ten get a gift they never expected. Karina and Derek go on a stakeout. And Serena finds the meaning of Bliss. All these stories and more explore what it means to be a wife, a mother, a woman navigating love and responsibility.

Good meals, good times, good friends.

Bon appétit!
---


Girl's Night is the second cookbook from Lexi Blake.  I could gush on about Lexi Blake forever, but I'll try and contain myself.  These cookbooks are so much fun because in between all these pretty fantastic recipes are mini short stories that bring us all up to date on the lives of our favourite characters from Master and Mercenaries as well as Topped.  I cannot tell you how much I enjoy that.  We get to read new characters but you never want to forget about the original ones and Lexi will never let you down on this.  In regular series books she brings back previous characters and gives you highlights and then she comes out with these cookbooks and gives you mini stories about them too.
I loved all of the mini stories in this book, of course, but there are three that are my favourites and stand out for me.
Penny & Damon:  This was so much fun and in true Penelope style!  The quiet shy type that sits and takes it all in and waits for the perfect time.  Nothing better than sticking it to a class A bitch or three and not once losing her cool.  Epic!!!
Serena Dean-Myles:  OMG!!!!  This was the one that I had been waiting for all along.  Not just because Serena, Jake & Adam are one of my favourite sets of characters from M&M, but also because BLISS BABY!!!  We're back in Bliss!  For those of you who don't know what a "Bliss" is then you MUST hunt down Sophie Oak's books.  These are epic books and penned by none other than Lexi Blake writing as Sophie Oak.  Go now!!!!  You will not regret it!  Serena was a little blue and after being in Bliss for a whole big 24 hours she's right back to her old amazing self. 

I mean where else would you be sitting in a jail cell taking notes for your next novel from a cell buddy name Max Harper and a bunch of ladies from the "I-Shot-A-Son-Of-A-Bitch" club?

The Sisterhood of McKay-Taggart:  This was so so soooo good and the little club aptly named! Whether all of the gang from M&M are blood related or not, they are one big family.  As such all of the ladies formed a sisterhood.  When the boys & Erin are out hunting down and killing the bad guys the ladies and the kiddos gather together forming a support group for each other.  They keep each other company along with all of the kids and then they wait. They wait for word that all of their loved ones out in the field are going to be coming home.  Safely and unharmed.  ALL of them.  Just a little peek inside the heads of those strong brave ladies.
Another one knocked outta the park for Lexi Blake!  She's absolutely brilliant and I adore every word the girl writes!


Related Posts