BEWARE, please! This book contains explicit sexual content and may or may not contain Erotica &/or BDSM content as well. As such, it is not suitable or appropriate for readers under the age of 17 or readers who would be offended by this subject matter. My review may also contain conversation of the same. This warning has been extended to include some NEW ADULT as well.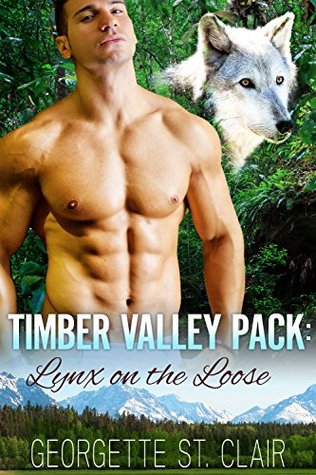 Lynx On The Loose by Georgette St. Clair
Series: Timber Valley Pack #4
on September 29, 2014
Genres: Adult, Paranormal, Romance
Pages: 133
Format: eBook
Goodreads


Wolf shifter Dashiel Battle has always known that Isadora Mosswood is a rebel, a rule breaker, a perpetual thorn in his paw...but is she also the greatest traitor that the shifter nation has ever known? Shocking new evidence seems to indicate that she's been secretly collaborating with a group of humans who were conducting experiments on shifters. When she's confronted, Isadora doesn't explain or defend herself - she goes on the run. Dash has no choice but to hunt her down, but as soon as he catches up to her, he discovers that someone's painted a big fat target on both of their hides. Can he keep the fiery tempered lynx shifter alive long enough to bring her to justice, and can he resist his growing attraction to the criminal who's vowed to flout the system for as long as she lives?
---
  My Favourite One So Far!  
Lynx On The Loose is book #4 of the Timber Valley Pack Series by Georgette St. Clair.
Oh this is a good one!  The best so far hands down.  They've all been pretty good, but lacking just a little bit.  This one was awesome!
Dash is a policeman in the Timber Valley Pack. He was Steele Battle's right hand man and when Steele left we figured he would move into the Sheriff position, but he didn't. He did still, however, have to put up with all of Isadora's antics. She is a little she-devil that one and it's not all to get Dash's attention. Bad human's are still after shifters. Danger still lurks and Isadora is smack dab in the middle of it all. She's been indicated as a traitor to the shifter world and is on the run and Dash has to find her before the elders do.
Dash and Isadora are phenomenal in this, especially Isadora. We've seen Isadora around the past couple of books and know she's a mischievous little thing, but she's SO much more than that!  … and Dash? Man, I was mad at him in the last book with the whole Steele thing, but he made up for it. He's scrumptiously delicious and he's just all alpha male goodness. Love him!
We got to revisit some favourite characters from the previous books including Steele and other Battle family members, as well as met a few more. I cannot say this without thinking about Isadora's parents. Wow, with parents like that? Who needs them? They are horrible people!!!
This book was exciting and fast paced and I really loved it! The last chapter was rushed though. It went from extreme excitement to the final chapter wrapping everything up.  Yes, it did wrap things up in a nice little bow, so that was very nice, but it could have been expanded into two or three chapters with more detail. It was still good though.
Other than the final chapter being a little rushed, there is one other small gripe that I have. In chapter 11 (location 1936 on the Kindle, I have no idea what the page is… ) there is a mistake.  View Spoiler »It says… "A quarter of a mile from the house, she was surprised to see Korvath burst out of the woods and start jogging alongside the pickup truck." It should have said "Pyotr" instead of Korvath. The reason it bothered me was because it's a huge spoilery mistake. The character IS actually Korvath and not Pyotr and the thought that Pyotr was Korvath crossed my mind earlier in the book, but I sort of forgot about it again until that moment and it was like a lightbulb moment… but it was spoiled in error. It was only a few paragraphs after that we found the truth anyway, but regardless it was still a editing error. « Hide Spoiler
All and all though… this is the best one of the bunch so far.  I love the Timber Valley Pack!


Related Posts