BEWARE, please! This book contains explicit sexual content and may or may not contain Erotica &/or BDSM content as well. As such, it is not suitable or appropriate for readers under the age of 17 or readers who would be offended by this subject matter. My review may also contain conversation of the same. This warning has been extended to include some NEW ADULT as well.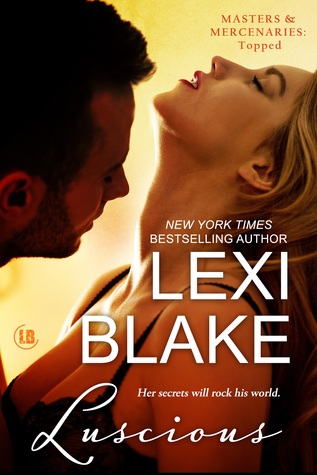 Luscious by Lexi Blake
Series: Masters and Mercenaries #8.25
on 01 May 2015
Genres: Adult, Contemporary, Romance
Format: Paperback
Goodreads



In 2014 A Sweet Life, the boxed set curated by Brenda Novak's Online Auction for Diabetes Research, raised $100 000. This year we're back for a second helping, and you can indulge too! This stunning limited edition collection features thirteen BRAND NEW contemporary romances by New York Times and USA Today Bestselling authors...
You can make a difference while you read! All proceeds from the sale of Sweet Seduction will be donated to the Diabetes Research Institute via Brenda Novak's Online Auction for Diabetes Research.

Featuring a foreword and a bonus book by New York Times Bestselling Author Lisa Renee Jones.

From New York Times bestselling Author Lexi Blake comes LUSCIOUS, a novella set in her Masters and Mercenaries world. When Macon Miles meets sweet waitress Alison Jones, he knows she's trouble, but he can't imagine how her secrets will rock his world.

NOTE:  There are several stories in this book but I'm only reviewing Luscious, so I've not included the synopsis for the other books.  
---
Luscious is either book 8.25 of the Masters and Mercenaries series or book 1 in a new spin off called Topped by the mega-talented genius Lexi Blake.  I'm not sure which way to label it.  Either way it's a must read!
The Story
Lexi Blake once again has brought together family and friends from the amazing Masters and Mercenaries series.  Sean Taggart aka Little Tag, Ian's little brother has opened up his new restaurant called TOP.  He has hired none other than Adam's younger brother Macon Miles.  Macon has come home from the Army a little damaged and in need of some healing.  His friend died in the same incident that took Macon's leg and there's a secret revolving around that incident that is weighing heavily on Macon.
Ally Jones is not getting any replies from Macon Miles about how her foster brother, Ronnie died.  So she takes matters into her own hands and finds a job with Sean Taggart at TOP.  She figures she can get close to Macon and see if she can get the answers that she needs.  She didn't plan on keeping her identity from him but she could never find the right time to tell him. Then it's too late to do so.
The author brought back everyone from Masters and Mercenaries as well as some people from Sanctum and in addition to all that awesomeness… we also got to meet a few new characters that I just know are going to be making appearances in upcoming novels.  I cannot wait for that!  I can't get enough.
Macon Miles and Ally Jones are fabulous characters!  They fit right in seamlessly with the rest of the gang.  I'm going to love hearing more about the new characters too.
Also, as always with Lexi Blake's books, this story is full of:
Love, Romance and Sexy Hot Love Scenes
Danger and Suspense
Wonderously Sex Hot Yummy Males
(… and my personal favourite) Sarcastic and Hilariously Funny Laugh-Out-Loud HUMOUR
The Writing
This is brilliantly written.  Yep, it's a novella but with everything that Lexi Blake puts to paper, you do not feel like you didn't get the full story.  I swear!  It's so amazing how she can fit everything in that you need to feel like you got a full length novel and you don't feel like you missed anything… and most importantly you don't feel rushed through it either.  You're still sad when it's over because you just want more, but I'm like that with a full length novel of Lexi Blake's too.  That's just the way her writing affects me.  I need more.  I can't get enough.  It's a good thing.
I love love love being updated with previous characters.  They are such a great gang of people and I adore all of them.  For me it makes for great reading because all of this infusing of family and friends into all of Lexi Blake's books gives you that anchor that you can relate to so much that you instantly fall in love with everyone.  It's sort of like carrying around a lucky rock or penny.  You feel grounded when you have it in your possession.  Well, I fell grounded when I get to see my favourite characters make an appearance in a new story. I just know good things are going to happen because the gang is all here. I lose that nervousness that comes with reading about new characters.  It's brilliant!
I've already mentioned the dialogue and witty humour above as being part of the story and I love it.  It's more than that though.  The "voices" that this author creates using her humour and dialogue is so spot on and phenomenal.  I can almost know which characters  said what just by hearing the words that I'm reading.  The voices are coming through the dialogue loud and clear and it's…. well, there isn't words to explain how brilliant  it is.
The Genius Herself
I repeat this all the time, but I find Lexi Blake to be a fabulous writer and I've been known to repeat the word GENIUS a lot when referring to her talent.  I can't help it.  I'm not here to blow smoke up anyone's ass just for the sake of blowing smoke.  I seriously have a passion for everything that this girl writes.  I adore her writing and every story that I have ever read of hers. Not just this series.  Everything.  She has a style that is like no other.  I absolutely adore her!
Favourite Quote
Now I never do favourite quotes.  I never know if it's going to be spoilery or not, but there is one quote that has stuck with me and I laugh every time I think of it.
"You broke the pie maker!" ~ It's probably not surprising that this came from the mouth of everyone's favourite asshat, Ian Taggart.  God, I love this character!  He has got to be my all-time favourite character out of every book I ever read in my entire lifetime of reading spanning across ALL genres.  Just so you know… that's a shitload of books and several genres.


Related Posts