BEWARE, please! This book contains explicit sexual content and may or may not contain Erotica &/or BDSM content as well. As such, it is not suitable or appropriate for readers under the age of 17 or readers who would be offended by this subject matter. My review may also contain conversation of the same. This warning has been extended to include some NEW ADULT as well.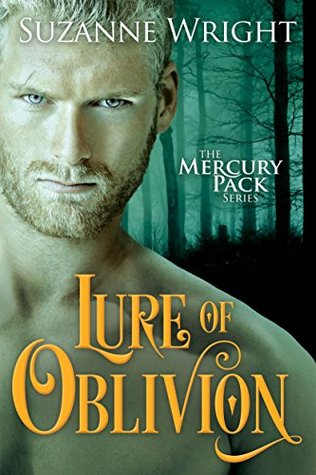 Lure of Oblivion

by Suzanne Wright
Series: The Mercury Pack #3
Published by Montlake Romance on November 21, 2017
Genres: Adult, Paranormal, Romance
Pages: 333
Format: eBook
Goodreads



Gwen Miller may be a human, but she has no problem taking a stand against her own kind. She's going to testify against the teenage boy she saw viciously assault a lone shifter female—and no amount of pressure from the boy's wealthy family will make her back down. But when the harassment turns violent, help comes in the form of a lean, toned wolf with winter-gray eyes.

As a guest at Gwen's inn, shifter enforcer Zander Devlin can't help but notice that the fierce and leggy brunette is in serious trouble. Since she's putting herself at risk for one of his kind, keeping her safe is the least he can do. That's not the only reason Zander wants her close. He desires her, even as the wolf inside him backs away from her. But his feral instincts are hard to keep down, and as they take shape, they're harder for Gwen to resist. Then again, embracing them could be the only thing that could save her life.
---


Lure of Oblivion is book #3 in The Mercury Pack series by Suzanne Wright.
I feel like every time I review one of the books from either this series or The Phoenix Pack series I'm repeating myself.  It's great for the author because there are only so many ways that you can say "I love this book" but the end result is still the same… LOVED IT!  Not so good for someone who is trying to review books and give something fresh to a review.  I'll work on that.
I love this book!  I love this series and it's sister series The Phoenix Pack.  I love the characters.  I love the hot sexy scenes.  I particularly love the humour.
Gwen is a total bad-ass!  She should SO be a wolf!!!  Zander is amazing but we already knew that from other books.   It was nice to see him be so happy and content.  View Spoiler »What a dickhead Rory is!!!  « Hide Spoiler I adore Gwen's human family!  View Spoiler »Not her real father, but I gotta say I think there is more to that story.  « Hide Spoiler
This book was a little bit different because Gwen is very much a human and not a fellow shifter.  I'm not completely sure I'm as invested in the relationship between Zander and Gwen as I am with all the other pairings.  I'm not sure why because I love Gwen's character, View Spoiler »but I was hoping right to the end that she would find out that she is a latent shifter or something as equally exciting.   « Hide Spoiler  One thing I do want to mention without spoilers is the explanation of Zander's wolf toward Gwen.  I adored that!!!!  Heartbreaky and all melty!
I have to say I cannot wait for Bracken's book!  He was a secondary character in this book, but he's just so friggin' cool!!!
Told you I was mostly repeating myself!  As long as it is Suzanne Wright and either this series or The Phoenix series… than I guess I don't mind.


Related Posts