BEWARE, please! This book contains explicit sexual content and may or may not contain Erotica &/or BDSM content as well. As such, it is not suitable or appropriate for readers under the age of 17 or readers who would be offended by this subject matter. My review may also contain conversation of the same. This warning has been extended to include some NEW ADULT as well.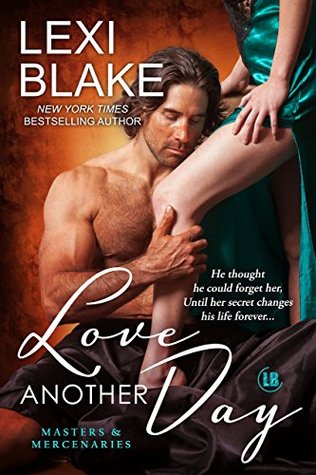 Love Another Day

by Lexi Blake
Series: Masters and Mercenaries #14
Published by DLZ Entertainment on 22 August 2017
Genres: Contemporary, Adult, Romance
Pages: 496
Format: Paperback
Goodreads



A man born to protect

After a major loss, Brody Carter found a home with the London office of McKay-Taggart. A former soldier, he believes his job is to take the bullets and follow orders. He's happy to take on the job of protecting Dr. Stephanie Gibson while the team uses her clinic in Sierra Leone to bring down an international criminal. What he never expected was that the young doctor would prove to be the woman of his dreams. She's beautiful, smart, and reckless. Over and over he watches her risk her life to save others. One night of pure passion leads him to realize that he can't risk his heart again. When the mission ends, Brody walks away, unwilling to lose another person he loves.

A woman driven to heal

Stephanie's tragic past taught her to live for today. Everything she's done in the last fifteen years has been to make up for her mistakes. Offering medical care in war-torn regions gives her the purpose she needs to carry on. When she meets her gorgeous Aussie protector, she knows she's in too deep, but nothing can stop her from falling head over heels in love. But after one amazing night together, Brody walks away and never looks back. Stephanie is left behind…but not alone.

A secret that will change both their lives

A year later, Stephanie runs afoul of an evil mercenary who vows to kill her for failing to save his son. She runs to the only people she trusts, Liam and Avery O'Donnell. She hasn't come alone and her secret will bring her former lover across the world to protect her. From Liberia to Dallas to Australia's outback, Brody will do whatever it takes to protect Stephanie from the man who wants to kill her, but it might be her own personal demons that could destroy them both.

A Masters and Mercenaries Novel by Lexi Blake
---


Love Another Day is book #14 in the Masters and Mercenaries series by Lexi Blake.  
Have you ever been so consumed with guilt that you feel that you can never be atoned for it?  Then you need to read this book.  Yes, the back-story here is a very tragic one, but regardless guilt is guilt and it will eat away you until you yourself stops it.   I think everyone who reads this one will relate to it in some way even if it's only on a small scale.
Dr. Stephanie Gibson has been beating herself up for years, even after she was forgiven by the very person who suffered the most from her accident.  What a brilliant and complex character!  Stephanie is so easy to love but you just want to smack her for not giving to herself like she gives to others.
Brody has been in the Masters and Mercenaries world for a few books now (Dungeon Royale) and his story was very much worth the wait.  Another amazing character.  He fits in so well with all of the other members of McKay-Taggart that it's like he's always been there.
I can't even begin to express how this book affected me.  Is it my favourite book in the series? Probably not because that spot belongs to Ian, but out of all the books in this series and the Topped series and the Sanctum series this one had my emotions so fucked up that I would read late into the night and then couldn't get to sleep afterword because my mind was reeling. Every single book has been freaking awesome but this one for some reason hit me like a ton of bricks on my heart.  I believe it's because like the rest of the universe there is always a story of guilt in everyone's past at some point or another no matter how small the scale. If there isn't then you can count yourself very lucky.
There are so many other great things about the book as well!
We got to see a bit more of Tucker.  Now there's a story that's coming up and I for one can't wait!
Sadie!!!  OMGOSH!!!  … and YES, they need that many exclamation points!  What a beast she is!  I'm only sad that because she's one of the crossover characters that she is getting her own book but Lexi is not writing it.  However, I will just have to start reading some Susan Stoker I guess.  It'll be interesting how her character will develop with another writer.  It is so cool when a kick-ass chick can set Ian Taggart on his ass!  LOL  Amazing!
Adam was in this book a lot which I am always so grateful for.  Love him!  Didn't see much of Jake but the was mentioned, and Serena was there a few times.
Avery & Liam played a huge part in this book.  It is always nice to revisit other characters.  I'm so happy Lexi does this with each of her books.  They aren't all in every book, but they are all mentioned at some point or another.
Alex along with Case, Erin & Theo was there.  So happy to see Theo kicking ass again.  YAY!
This list could go on for eternity!
Suffice it say that I'm a huge fan and I have yet to find fault with anything that Lexi has written.  I have never been disappointed in her books no matter what the series.  She has a brilliant mind and imagination and I'm so honoured and glad that she shares it with us all.




Related Posts