BEWARE, please! This book contains explicit sexual content and may or may not contain Erotica &/or BDSM content as well. As such, it is not suitable or appropriate for readers under the age of 17 or readers who would be offended by this subject matter. My review may also contain conversation of the same. This warning has been extended to include some NEW ADULT as well.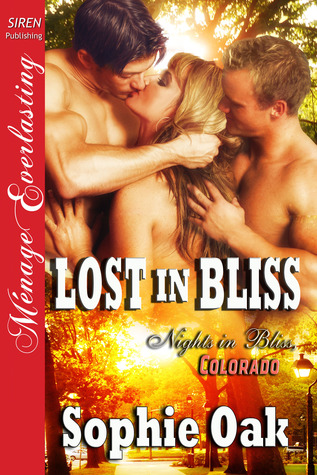 Lost in Bliss by Sophie Oak
Series: Nights In Bliss Colorado #4
Published by Siren Publishing on September 6, 2011
Genres: Adult, Contemporary, Romance
Pages: 300
Format: eBook
Goodreads


Laura Niles left her past behind. She fled Washington, DC, with her career in ruins and her love life decimated. In her desperate flight, she found a home in Bliss, Colorado.

For five years, Rafe Kincaid and Cameron Briggs have searched for the only woman they've ever loved. The FBI agents couldn't share her before, and it tore them apart. Now they have tracked her down, and they want answers. Why did she run? Why did she hide? Why are there so many naked people in Bliss?

Laura is shocked when her former loves show up in her new home. And when they bring the full force of the FBI with them, Laura knows Bliss is in for a rough ride, because a killer has been watching and waiting for a second chance. And so have Rafe and Cam.

** A Siren Erotic Romance [Siren Menage Everlasting: Erotic Cowboy Menage a Trois Romance, M/F/M]
---
Lost In Bliss is book #4 in the Nights In Bliss, Colorado series by Sophie Oak.
Story
Sooooo good!  You gotta love suspense, but suspense wrapped up with sexy hot FBI agents and sexy hot local Sheriffs and deputies not to mention a sexy hot ex-Navy SEAL team member and one spunky little ex-FBI profiler and now you've got my attention.
All the sexy hotness aside, the story was fantastic!  At times I thought I had it all figured out and yet there was just that little bit of mystery that kept me guessing.
Heat Factor
This was a little low for me.  A couple of the scenes were really great, but then a couple weren't as great. I don't know what happened.  Usually I'm right there, but for some reason there was just a bit of disconnect this time for me.
Characters
Once again Sophie Oak has created some amazing characters.  I love these guys.  All of them in the entire town.  We met Laura earlier in the series but got her full story in this one.  I really like her.  She's great! She's got her own alpha side to her and I'd like to see her and Rachel together again. Rachel and her are friends, but they're both alpha and very protective.  That could be for some fun conversations.  LOL
Cam and Rafe are really fantastic characters too, but I did have a bit of disconnect with Rafe.  I think he'll grow on me though.  I already liked him more by the end of the book than I did at the beginning.
We revisited all the favourites as well and got to go to Stef and Jen's wedding.
Oh and last but certainly not least we got to see some sexy ass kickings! Always a pleasure!
Writing/Dialogue
Sophie Oak is a genius writer!  The storytelling itself is brilliant.  How she can move you around in the character's minds and weave a tale is spectacular. My favourite part though is her dialogue and humour that she uses. She really makes you fall in love with each character based on their "voice" that comes loud and clear through the words. You can almost tell who's speaking based solely on the words you're reading.  It's amazing!
In A Nutshell
Loved it! I love the characters the story and the series. I love visiting with previous characters and I love how the new characters mesh with them.  I especially love how everyone is very protective of the other and the entire "FAMILY" feel to it.  Love it! Can't get enough and I can't wait for more.
Related Posts