BEWARE, please! This book contains explicit sexual content and may or may not contain Erotica &/or BDSM content as well. As such, it is not suitable or appropriate for readers under the age of 17 or readers who would be offended by this subject matter. My review may also contain conversation of the same. This warning has been extended to include some NEW ADULT as well.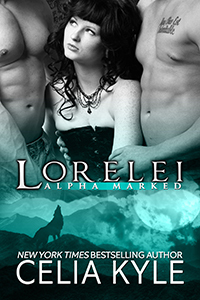 Lorelei

by Celia Kyle
Series: Alpha Marked #5
on January 5, 2015
Genres: Adult, Fantasy & Magic, Paranormal
Pages: 87
Format: eBook
Goodreads


Thirty and single? Well, getcha ass to the Gathering! Wait… what?

Lorelei is a hint over thirty—nobody better ask how much of a hint—and isn't sure why the hell she's been magically hauled to the land of werewolves. But she has. Which sucks. At least they stole her while she was at the gun range. Go Pink Pistol of Doom! So, they stole her, she stole a cell phone in return, and all is crazy in her new werewolf-laced world. It gets even crazier when, 1—she discovers her sisters have been kidnapped, too, and 2—werewolves are sexy as all get out. Lorelei is determined to come to her sisters' rescue and well, see what Dylan and Zeke have to offer.

Dylan and Zeke can't believe they've found their mate. Even though word was passed around that Wardens can have mates, they never thought they'd find theirs. And yet, here she is. Lorelei—gorgeous, lush, and curved in all the right places—calls to their magic and heats up their wolves. They want to lick her from head to toe… together. And they will, once they get that little gun out of her hands. Hell, maybe she could keep it. She is sexy even when she threatens their lives.

They found her and now they're gonna mate her… as soon as they take care of the powerful five families threatening to take Lorelei from them. Blood may be involved. Sucks to be those guys.

Part of the "Alpha Marked" Series:
1. Scarlet
2. Gabriella
3. Whitney
4. Rebecca
5. Lorelei
6. Paisley
---
Lorelei is book #5 in the Alpha Marked series by Celia Kyle.
These books are more novellas than full novels, but Celia Kyle can pack quite a punch in a short book.  Gotta say!
Lorelei has been summoned against her will to the annual gathering that plunks her down in the middle of a bunch of werewolves.  She's mystified and majorly pissed.  Luckily she has her pink pistol with her.  Unfortunately the phone that she's stolen belongs to Zeke.  A werewolf.  A gorgeous werewolf.  Dammit.
Zeke and Dylan are looking for their mate and by gosh this lady with a pink pistol aimed right at his head seems to be her. He has to get her and himself back to Dylan before she decides to shoot him.
These books are quite good. Actually, scratch that, they're REALLY GOOD!  They're short, but like I've already mentioned they can pack quite a punch in those few pages. My only issue is that just when the story starts to get really interesting that's when it stops because it carries on into the next book.  I completely understand why because each novella is about a different sister/cousin yet the story is all connected.  All 6 books are telling one big story from three different points of view in each book so these are more like chapters or sections. The first three books are the Wickham sisters who are cousins to the Twynham sisters which is the next three books.
I'm totally hooked now so I have to go to the end to find out how it all goes down. The story is really worth the read.  I don't mean to make it sound like it isn't.  It truly is. My only advice is to have all the books at the ready so you can move right into the next book seamlessly.  Otherwise, it's a little annoying when the books finish and you don't have the next installment to start. It's hugely cliffy that way.  Other than that though, I love this series. It's packed full of sexy hot werewolves, hot and steamy scenes, strong female characters and lots of magic and mayhem.
The good news is that all 6 books are out so you can get your hands on all of them now. I'm about to start book 6, Paisley, shortly. Can't wait.


Related Posts