BEWARE, please! This book contains explicit sexual content and may or may not contain Erotica &/or BDSM content as well. As such, it is not suitable or appropriate for readers under the age of 17 or readers who would be offended by this subject matter. My review may also contain conversation of the same. This warning has been extended to include some NEW ADULT as well.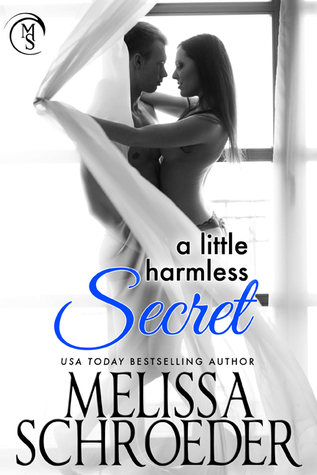 A Little Harmless Secret

by Melissa Schroeder
Series: Harmless #10
on September 23, 2014
Genres: Adult, Contemporary
Pages: 280
Format: eBook
Buy on Amazon
Goodreads


Just because you love someone doesn't mean you can trust them.

Devon Stryker is a man with no past—not one anyone can dig up that is. His made up identity has kept him safe from everyone, except one woman. Five years earlier he let his guard down once, one night of unforgettable passion. He has yet to get her out of his mind. When he thinks he sees her in Seattle, he becomes obsessed with finding her.

Alicia Hughes hasn't forgotten Devon either. She had been on assignment from MI-6 to find him. Since he disappeared, her life has fallen apart. When she comes face to face with the one man she loved—and the one she fears the most—she panics. When he catches up to her, he finds the woman he has always loved—and the child they made together.

As the old lovers form a tentative alliance, the feelings they both had for each other rise to the surface. They have to let those things go to protect everything they hold dear in the world because someone is intent on destroying them…by any means possible.

WARNING: This title includes secrets, guns, a sexy know-it-all hero, spies, a heroine who doesn't trust the hero, meddling inlaws, even more spies, double crosses, cool computer things, and two people who can't seem to keep their hands off each other even though they know it isn't the right thing to do. Remember, it's a Harmless book, so have ice water and towels nearby.
---
A Little Harmless Secret by Melissa Schroeder is the 10th book in this series.
I've got to say, I love this series as well as the two spin-off series A Little Harmless Military Romance and A Little Harmless Shorts.  All are chalk full of funny witty humour and sexy alpha males and just all around dangerous excitement and a lot of fun too.
Devon Stryker is a dark moody character.  We met him in book #4 (A Little Harmless Lie) and possibly made a small appearance since then, but I'd have to go back to make sure. He's Dee's brother and now Micah's brother-in-law.  Anyway, he creates video games and is pretty much a computer genius but he also has some training in MI6 so he's a badass too.  A very rich badass. Alicia Hughes is fully trained in MI6 and a well trained spy.  She's on the run with her daughter and the last person she needs to see right now is Devon Stryker. She once loved him, but now she's running from him.
The steamy goodness that is the sexual tension between these two is fantastic!  Wow!  
 Melissa Schroeder knows how to get your attention in that department quite well I must say!
We got to dive deeper into Devon's character and meet the new character in Alicia (Ali). We also got to revisit some favourite characters from the series.  I love that when that happens.  It enforces the "family" feel to the stories.  I really thought Devon was a bit of a self-centered dickhead in book #4.  Kind of… he was just over protective of his sister and he's not the friendliest person in the world, but he's actually quite a caring person. He can still be a dick though, but in a funny way.  I liked that we got to see his vulnerable side in this book.  It made him human and not a computer generated version of himself.  He turned out to be a great character and I love him. He's right up there with the rest of them now.
Alicia is pretty cool.  She kind of reminds me of Dee.  She certainly knows how to take care of herself and she's a total badass!  It's really great.  I love strong female characters that take no crap from anyone, but yet still has a vulnerable side and likes to be taken care of by a strong alpha character.
I do have a couple of issues that knocked the book down to 3.5 stars for me though. Not that I wanted to do it because I really enjoyed reading it, but I like to be surprised by the outcome and I wasn't.  I totally guessed the "who done it" scenario quite early on in the book so when it came to light it was like "Yeah, no surprise there!"  Then after that whole situation/scene was finished the rest of the book was completely rushed.  It was like 'okay, we got our bad guy, everyone is out of danger, let's hurry up and get the book over with'.  It just felt a little rushed.  Other than that though, I really liked it and I loved the characters.
Also, we got to meet the man from book #11 ~ A Little Harmless Rescue ~ Sean Kaheaku. He seems just delightful!  Can't wait! Bring it on!


Related Posts