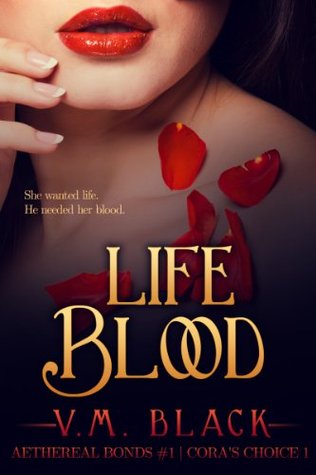 Life Blood

by V. M. Black
Series: Cora's Choice #1
Published by Swift River Media Group on 2014-09-05
Genres: Adult, Paranormal
Pages: 119
Format: eBook
Goodreads


She wanted life. He needed her blood.

Cora Shaw will do anything to live. Diagnosed with terminal cancer in her senior year of college, she is given a choice: Call hospice, or seek out a mysterious man who promises an impossible—and insanely dangerous—cure.

She knows him only as Mr. Thorne, a reclusive billionaire who seems full of contradictions. A man with strange, impossible powers over her.

A man, she discovers, who is not a man at all.

In the first book of the Aethereal Bonds series, Cora makes a deal with a devil—and gets more than she bargained for.

This 23,000-word book initiates Cora into a world she's never imagined—and may never escape. It is the first of the Aethereal Bonds series.
---
Life Blood is the first book in a series of novellas by V. M. Black called Cora's Choice.
Cora Shaw found out that the drug that she's been on for her illness isn't working and she's terminal.  She was given the option of seeking out something a little unconventional and having a chance at life or going to hospice where death is inevitable. The "something a little unconventional" goes by the name of Mr. Thorne.  His method is certainly not guaranteed but if it works she will be cured.
I find it a little more challenging to write reviews for novellas.  Not that they aren't good but they're so short that it's hard to come up with enough stuff to say about them.  V. M. Black, however, seems to pack quite a bit of stuff into a few short pages.  Her style of writing is quite captivating and flows very nicely so it's easy to read.  I was hooked after only a few paragraphs.  The mysteriousness of it all was evident right off the bat.  Life Blood is just the first in the series so we didn't get too far into the story but enough that I know right now that I have to continue reading.
I instantly took a liking to Cora.  She's just a young girl who just found out that she hasn't got much time left.  She's presented with a scary choice and has to make a decision… but does she really have anything to lose?  I don't completely know her yet because the story is just starting but so far, I find her to be quite an amazing little character.
We also got to see very little of Mr. Thorne and I already love him. (LOL ~ My own version of "Insta-Love".)  There is just one thing that he did that showed me his character and I instantly liked him for it.  View Spoiler »He told Cora she had two weeks to make her decision and even though she said she was ready he said he would not take her decision until after two weeks with no contact from him because he wanted the decision to be 100% hers and not somehow swayed by him because she would do anything he wanted.  I thought that was incredibly noble of him. « Hide Spoiler
So, yes, I am very pleased with this book and I'm looking forward to continuing on with the story.
Related Posts