BEWARE, please! This book contains explicit sexual content and may or may not contain Erotica &/or BDSM content as well. As such, it is not suitable or appropriate for readers under the age of 17 or readers who would be offended by this subject matter. My review may also contain conversation of the same. This warning has been extended to include some NEW ADULT as well.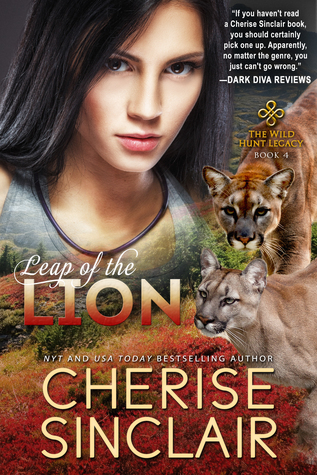 Leap of the Lion by Cherise Sinclair
Series: The Wild Hunt Legacy #4
Published by Cherise Sinclair on November 14, 2017
Genres: Adult, Paranormal, Romance, Fantasy & Magic
Format: Paperback
Goodreads



She shifts for the first time on the day of her escape.

After a decade of captivity, Darcy MacCormac escapes the corrupt, clandestine organization called the Scythe, leaving family and friends behind. She must find a way to rescue them. Discovered by other shifters, the brand-new cougar gets two mentors. Blademage Gawain is an easy-going blacksmith with a steel-hard core. His brother Owen is a deadly warrior. Grumpy. Rude. And he doesn't like her.

They aren't the mates she'd dreamed of—they're more.
Powerful, dominating Owen protects the clan—especially the weak—and the only remnant of an abused childhood is his avoidance of females. Now he has to mentor one? Although Gawain soon falls for the dauntless little cat, Owen knows better than to lose his head. But Darcy has a gift for repairing everything…including damaged hearts.

Love isn't in her destiny.

In the brothers' arms, Darcy finds safety. Comfort. And love. But however much she longs for a future with Owen and Gawain, her people need her. Somehow, she must find the courage and skills to save them, even if the attempt demands her life.
---


Leap of the Lion is book #4 in The Wild Hunt Legacy series by the lovely and very talented Cherise Sinclair.
I'm sure I have mentioned this in reviews of the previous three books, but this series is a little outside of the normal box for Cherise Sinclair and I must say, you wouldn't know it.   I seriously love this series!!!  The entire Wild Hunt Legacy gang is a fantastic group of characters.  … and she finds sneaky little ways to throw a tiny bit of BDSM innuendos in there too.  I mean, it IS Cherise Sinclair afterall!
Darcy is a true gem!  Cherise Sinclair has made her a very strong, capable, fierce and extremely lovable character.  She has come from the proverbial ashes and now soars to great heights.  I adore her!  I thought Vicki was a kick-ass character, but she has company.
Owen & Gawain were in previous books and they too are fantastic characters.  I'm very glad to have the back story on these two now and although it rips your heart out it's worth every word.  Another two characters who rose from the ashes of despair to soar.  Damn I love these guys!
This particular book in the series was really gut-wrenching at times. The abuse and fear in their stories are… RAW!  The emotions that I personally felt while reading this was real and literally took my breath away at times. I was seething with anger one minute and laughing my ass off another.  Cherise Sinclair made me feel like I was right inside the story with everyone.  She has a knack for that.
Once again another winner from the author! I love how all of the characters are brought back into each book so we get to keep in touch and get that "FAMILY" feeling.  It's like reading inside of a warm blanket of safety!  Keep 'em coming, Cherise!!!


Related Posts