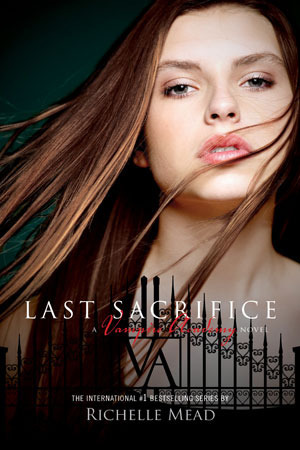 Last Sacrifice by Richelle Mead
Series: Vampire Academy #6
Published by Razorbill, Penguin on 2010
Genres: Paranormal, Young Adult
Pages: 594
Format: Hardcover
Goodreads


The astonishing final novel in Richelle Mead's epic series! Murder. Love. Jealousy. And the ultimate sacrifice. Now, with Rose on trial for her life and Lissa first in line for the Royal Throne, nothing will ever be the same between them.
From here on out there WILL BE SPOILERS!!!









Well, let's see.  I just wrote and entire page out of anger and then deleted it all because I was repeating myself and focused strictly on my anger and basically nothing was getting accomplished with the review. 
Let us try this again…. I finished the book right before supper and I was so ANGRY.  I'm still angry but not at the writing or the author.  I know exactly why she did what she did.  What I'm angry with is that a very dear character for me in this book was not just crushed but annihilated, and I think it was unnecessary and could have been avoided SO easily.  He still would have been hurt but it would have been accepted a little bit better by him.  But the lying and the cheating made it bonecrushing.  It's just not fair to him.  He was nothing but true and kind the entire series and he got completely shit on!  I'm pissed and devastated by it.  (… and yes I know this is a story and not real but that's the best thing about reading books…. you delve right into the story completely and feel every emotion your characters do… It's just good writing!)

The other thing that is a little disturbing to me is that this was Rose's story and as the protagonist I should have wanted everything for her but I didn't.  I cared more about Dimitri and Adrian.  Her actions in this book as well as the previous ones were true blue ROSE/Roza but I found that by the end of her story I cared less about her and more about other characters.  There's something wrong with that isn't there?  She's an incredibly selfish person.  I know that sounds contradictory considering how she would do anything to save Lissa and Dimitri but yet her callousness and one-track mind and most importantly… her knack for getting what she wants without worrying about who she's stepping on and using in the meantime, makes me dislike her.  Her goals were honorable but her methods weren't.  She knew she was using Adrian and did it anyway.  She is not a nice person. 

I'm glad that she got her happy ending and that Dimitri got his, but I'm so heartbroken for Adrian.  My heart just aches for him.  I'm hoping that the new series that Richelle Mead has coming out will give Adrian his…. along with answering a whole bunch of unanswered questions for other characters like Sydney, Lissa, Jill, Eddie and Christian. 

I didn't like how it ended between Rose and Adrian but maybe that all had to be done to lead us into the new series for Adrian.  His reaction was not what I expected.  He was crushed and very angry and usually he isn't like that with Rose.  She deserved everything she got from him.  Every word.  Yet, I feel that they need to make amends somehow in the next series.  Not for her sake but for Adrian's.  I think it's important to his healing.  Otherwise it might change his personality.  I wouldn't like that.  I like him just the way he is.   Also as much as Rose bothers me right now, I think the closing of her story should have had some closure with Adrian too and it didn't.  She deserved his anger but yet without the closure with him her story isn't completely finished.  Some people may argue that the conversation between her and Adrian was very final and yes to a point it was but it ended in anger and hurt with no indication that things would heal in time.  Maybe we're supposed to assume that I guess.  Time heals all right?  Well, somehow I don't think she needs the healing as much as Adrian.  She lost nothing more than a friend and gained a life partner with Dimitri.  Adrian lost a friend, the love of his life and trust.  It's just heartbreakingly sad. 
When Adrian said "I don't want you to suffer.  Much.  …." I thought that was the best line in the entire book.  She deserved it.  Also, I think she was right about great things for Adrian's future but he needs to go for it.  He's amazing but doesn't push himself to greatness.  She was right and I hope that gets explored in Bloodlines.  He took it as an insult but it wasn't really.  She does love him but not enough, which is why she shouldn't have used him the way she did.  It was selfish of her to keep him around for comfort knowing that she didn't love him as much as she should. 
Speaking of lines in the book there is one that's bothering me so much.  "the contract is null and void by the way."  Adrian's last words to Rose before he left the room.  Rose's reaction was "like a slap in the face".  I'm assuming it was a reference to something in the previous books.  I tried to look for it and couldn't find it but I'm going to search again.  I can't remember if it was during the time when he first loaned her the money to go to Siberia or if it was in reference to a deal that they made when Dimitri wouldn't show her any love and said they were over and then she went back to Adrian and said that she would move on from Dimitri.  I wish I could remember.  Anyway, I won't stop until I find it. 
I'm assuming the author has something in mind though so I'm going to put my trust in her.  She brought me through an amazing series with its ups and downs and now I'm hoping the next one is just as great. 

 




Related Posts