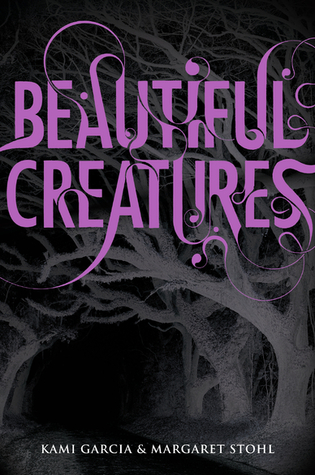 Beautiful Creatures by Kami Garcia, Margaret Stohl
Series: Caster Chronicles #1
Published by Little, Brown Books for Young Readers on 2009-12-01
Genres: Fantasy & Magic, Paranormal, Young Adult
Pages: 576
Format: Hardcover
Goodreads


There were no surprises in Gatlin County. We were pretty much the epicenter of the middle of nowhere.At least, that's what I thought.Turns out, I couldn't have been more wrong.There was a curse.There was a girl.And in the end, there was a grave.Lena Duchannes is unlike anyone the small Southern town of Gatlin has ever seen, and she's struggling to conceal her power and a curse that has haunted her family for generations. But even within the overgrown gardens, murky swamps and crumbling graveyards of the forgotten South, a secret cannot stay hidden forever.Ethan Wate, who has been counting the months until he can escape from Gatlin, is haunted by dreams of a beautiful girl he has never met. When Lena moves into the town's oldest and most infamous plantation, Ethan is inexplicably drawn to her and determined to uncover the connection between them.In a town with no surprises, one secret could change everything.




This book was quite interesting and very well written.  The only thing I found with it was the fact that one author wrote the magical part of the book while the other author concentrated on the historical part of the book.  Again, very well written and researched, but considering that I'm not a fan of historical fiction the parts about the Gatlin history was very boring to me and therefore took away from the story… for me.  The rest of it was very good though.  Different and refreshing but yet fell just a little on the short side for me. 




Related Posts