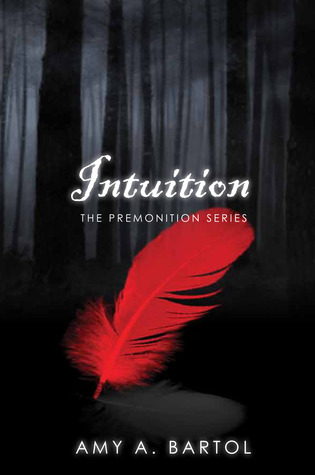 Intuition

by Amy A. Bartol
Series: Premonition #2
Genres: Paranormal, Young Adult
Format: Paperback


(discription from Goodreads):  I don't open my eyes so I can't see him, but I can smell him. He thickens the air I breathe, choking me with his scent…his aroma. I shiver. I have to resist. If I'm not strong, then I will be relegated to the same fate as this predator whose sickness infects me even now. But now, I crave him and he knows that; he has been counting on my need to end the gnawing pain. How he would savor my surrender. I'm alive, but how much longer will it take until I beg him not to be?
Reed continues to be my favourite character.  The rest of the gang are also awesome characters.   I don't want to take away from them, it's just that I'm totally in love with Reed!   Yummy!
Russell and Evie's characters have grown so much in this next book.  They both were developing in the first book, but the 2nd book sky rocketed them.  They are incredible characters!   I love their background story and their past and it's so nice to have a book that even though there is a love-triangle there is no disputing what Evie's heart wants!  She's got a head on her shoulders and she's mega smart!
The story went in a couple of different directions this time but all good and incredibly exciting to read.  Very fast paced.  I just couldn't put it down.  It was amazing!
There was one slow part (hardly worth mentioning) that was from Russell's POV but looking back it gave more light on his character and it was worth the lull.   I still like it better from Evie's POV though so I hope that doesn't happen in book 3… unless it's Reed's POV and that would be F.I.N.E!!  LOL
I cannot wait for book #3 ~ Indebted.  I'm having a hard time finding out information about it though.  Anywhere I can find anything it just says "coming soon".  Well, 2012, 2013??  When dammit!!




Related Posts