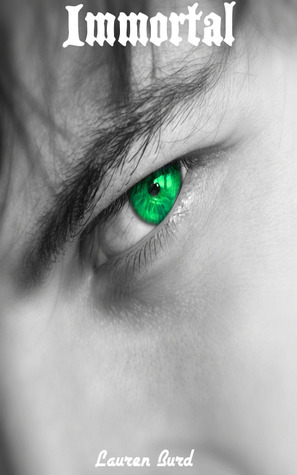 Immortal by Lauren Burd
Published by CreateSpace on 2010
Genres: Paranormal, Young Adult
Pages: 255
Format: eBook
Goodreads

The wound inflicted only a few minutes before was nearly healed. A small cut was the only sign that anything had occurred. I watched in disbelief as it finished closing and eventually disappeared.




I'm a little torn with this one.  On the one hand it was very good and the author kept enough suspense that I had to keep reading to find out what happened but on the other hand it was …. I can't think of the right word right now.
I've read somewhere on the net that the author does not like it when you say things like "If you liked Twilight you'll love this" etc.  She does not like being compared to the Twilight saga apparently.  Well, my only thought to that then is that she shouldn't have had so many similarities to Twilight in her book then!   There were a LOT!  I could sit here and pick out several without even checking back on the book.  However, with as many similarities as she had, she also had new ideas and avenues that she took.  I mean let's face it, when you write about vampires, you're bound to end up with some similarities to other vampire books, but some of these similarities were just flat out obvious.
Having said that, I did find that I could not put the book down.  It was a very quick read and at the risk of repeating myself, the author kept it interesting enough to make me want to the turn the pages and also make me look forward to the next installment in the series.
The story started out a little on the slow side giving way more information about her mother than I thought was necessary but maybe she appears in later books making it necessary??  I guess we'll find out later about that.  Then the story started to pick up and that's when all the "similarities" kicked in, but by the end, the story started to take on a whole new flavour and became it's own and more unique.
This is a debut novel (I believe) and as such was very good.  I think this author has a lot of potential and I personally cannot wait for the next book.  I think it can only get better from here on out.



On a side note:  I'm not sure if this is a Kindle problem or if it's the editing of the books but I've been finding that the Kindle versions of the books are chalk full of errors.  Spelling errors, missing words, "too" instead of "to" and the list goes on.  It is incredibly frustrating to read.  I can't compare to the paperbacks or hard covers so I'm not sure if it's in the printed copies or just in the Kindle versions but it's becoming a huge issue with me.  The last 8 books that I've read on Kindle on full of annoying errors like that.  I must investigate.
Related Posts