BEWARE, please! This book contains explicit sexual content and may or may not contain Erotica &/or BDSM content as well. As such, it is not suitable or appropriate for readers under the age of 17 or readers who would be offended by this subject matter. My review may also contain conversation of the same. This warning has been extended to include some NEW ADULT as well.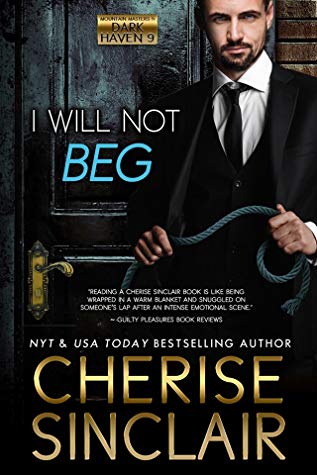 I Will Not Beg by Cherise Sinclair
Series: Mountain Masters and Dark Haven
Published by VanScoy Publishing Group on 19 June 2019
Genres: Adult, Contemporary, Romance
Pages: 352
Format: Paperback
Goodreads



She signed away her freedom...

Starved for affection, young Piper Delaney surrenders her life to a Master. But there is no love—only abuse. She's told she can't leave; she signed the slave contract. Years later, beaten and starving, she hears an English Dom say the contract's illegal. Unenforceable. And she runs.

She reclaims her life and rises above the nightmare that was her past.
But her enslavement left scars. She longs for love, but the only men who truly attract her also terrify her--Dominants. Hoping to conquer her fears, she visits Dark Haven, but the sounds of the club are too much.

When a submissive panics, Sir Ethan steps in.

The powerful English Dom recognizes the shivering submissive in his lap. Years before, he'd corrected her Master's deceit about a contract. She's come a long way since then. Cynical at being pursued for his wealth, he finds Piper's honesty compelling. She's intelligent, brave…and she needs him. What Dom could resist?

He's the Dom she'd dreamed about—perceptive, firm, and utterly self-confident.
His voice pulls her from panic attacks. His arms enclose her in safety. He treats her like a person, not something to mistreat. As he helps Piper overcome her fears, she starts to fall in love.

Then her past finds her and destroys…everything.
---


I Will Not Beg is book #9 in the Mountain Masters & Dark Haven series by Cherise Sinclair.
I have loved this series (and all series by Cherise Sinclair to be honest) from the very beginning.  Her characters are brilliant!  Her writing is amazing.
I have been a little out of the loop a these past couple of years.  I have been reading continually, but I'm re-reading my old favourites and haven't picked up anything new recently until I Will Not Beg popped up on my radar.  I adore the Mountain Masters & Dark Haven Series so I was very excited to see a new book.
I usually fall in love with the male characters and the women characters are… "meh".  I don't dislike them at all and most of them I like very much, but they are secondary to me.  It's the male characters that drive me to keep turning the pages.  Piper Delaney may have changed that for me.  She was beaten down and treated like garbage but her spirit was very much alive.  You wanted comfort and safety for her, but never pity.  Very strong female character who just needed a little push in the right direction for healing.  She wasn't completely healing on her own, but she was surviving.  She didn't just get away and start a new life.  She started her own business.  That takes initiative and strength.
Sir Ethan.  Mmmmmmm.  What a dream he is.  I love how Cherise Sinclair wrote him.  He's quiet and mild mannered, and very kind, but a fierce and sometimes scary Dom nonetheless.  He's a phenomenal character!  I absolutely adore him!  Piper was very challenging for him because she would have so very many triggers but he handled everything with ease… at least on the outside.
I loved this story so much.  Piper was like a phoenix rising from the ashes and Ethan was the hero waiting for her to take her home.


Related Posts