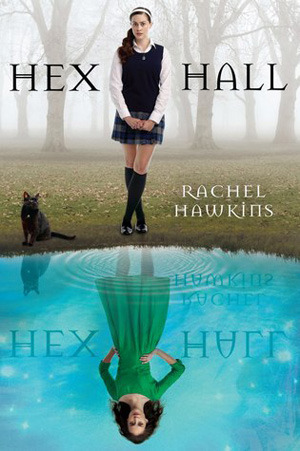 Hex Hall Book and Demonglass

by Rachel Hawkins
Published by Hyperion Book CH on 2010-03-02
Genres: Fantasy & Magic, Paranormal, Young Adult
Pages: 336
Format: Hardcover
Goodreads


Three years ago, Sophie Mercer discovered that she is a witch. Her non-gifted mother has been supportive, consulting Sophie's estranged father—a warlock—only when necessary. But when Sophie attracts too much human attention for a prom-night spell gone horribly wrong, it's her dad who exiles her to "Hex Hall", an isolated reform school for wayward Prodigium, a.k.a. witches, fairies, and shape-shifters.By the end of her first day, Sophie has three new enemies, a futile crush on a warlock, a tagalong ghost, and a vampire roommate. Worse, Sophie soon learns that an unknown predator has been attacking students. As a series of blood-curdling mysteries converges, Sophie prepares for the biggest threat of all: an ancient secret society determined to destroy all Prodigium, especially her.
Demonglass:  Sophie Mercer thought she was a witch.

That was the whole reason she was sent to Hex Hall, a reform school for delinquent Prodigium (aka witches, shapeshifters, and fairies). But that was before she discovered the family secret, and that her hot crush, Archer Cross, is an agent for The Eye, a group bent on wiping Prodigium off the face of the earth. Turns out, Sophie's a demon, one of only two in the world—the other being her father. What's worse, she has powers that threaten the lives of everyone she loves. Which is precisely why Sophie decides she must go to London for the Removal, a dangerous procedure that will destroy her powers. But once Sophie arrives she makes a shocking discovery. Her new friends? They're demons too. Meaning someone is raising them in secret with creepy plans to use their powers, and probably not for good. Meanwhile, The Eye is set on hunting Sophie down, and they're using Acher to do it. But it's not like she has feelings for him anymore. Does she?
---




(warning:  possible spoilers)  In a word?  WOW!    I came across these books quite by accident.  I was just hunting around on my Kindle and  saw these great covers by an author I had never heard of.   I then went to Amazon and found some great reviews and thought "what the hell" lets try them! OMG!!  I loved them!  I loved them SO much!  I read the first one in less than 24 hours and the second would have been the same if it hadn't been for other things that kept me from my reading!   Damn grown-up responsibilities! I think the humour with which Ms. Hawkins writes is absolutely amazing!  It keeps the story interesting and funny.  That's not to say that the story wouldn't be amazing without the humour because it certainly would.  It's just an added bonus.   It makes Sophie's character that much more likeable.  Yeah, she's a bit snarky but in such a funny way.  It doesn't make you like her less for it.  It's great! Archer ~ Mmmmm mmmm mmmmmmmmmmmmmmm.  Yummy!  Wow, I'm so in love with him it's criminal.  He's the typical drop dead gorgeous bad boy exterior with his own wittiness and drop dead gorgeous good boy on the inside with a hint of vulnerability for pretty witty sarcastic girls.  Well, one girl. Cal ~ Yummy again, but as much as I think he's a great character and I do like him for the love triangle, he's too good for me.  I like the dangerous type myself.   He's incredibly selfless though, which is an honourable and loveable trait. Jenna ~ Well, she's just freakin' awesome!  She's a loyal and all around reliable and fantastic friend.  Love her! I see from other reviews where a lot of people was left with a bad taste in their mouth for the abrupt ending of the 2nd book.  I mean yeah, it was a cliffhanger but personally I thought it was great!  I'm so excited about the third book now I can hardly contain myself!  …. and from Chapter 32 on I was on cloud 9 so I barely noticed! haha  Best chapter in the whole book!     Love me some Archer! So in conclusion, I'm so incredibly happy that I "accidentally" came across Rachel Hawkins!  She's phenomenal at her craft!  Love her!   Wish I had seen these earlier.  Rating is the same for both books!




Related Posts