I received this book from the author and/or publisher FREE of charge in exchange for an honest review. This does not affect my opinion of the book or the content of my review.
Pride

by Sandra Marton
Series: In Wilde Country #1
on 30 September 2014
Genres: Adult, Contemporary
Pages: 298
Format: eBook
Buy on Amazon
Goodreads

Luca Bellini is tough. He's had to be, to make it to the top. Luca grew up the son of an emotional Sicilian mother and a cold American father and learned, as an adult, that his entire life was a lie. How did he deal with that? By believing in control. In being in charge. Cheyenne McKenna is tough, too. She's had to be, to make it to the top. Cheyenne grew up without a father, and with a mother who saw her as something to trade for cheap whiskey. How did Cheyenne deal with that? Right. By believing in control. By being in charge.

Cheyenne and Luca meet by accident. The sex sizzles, but Luca wants more. He wants to be in control. He wants dominance, and it doesn't take long before he decides that the way he can achieve it is by leading Cheyenne into a world of silk scarves and velvet blindfolds, wide beds and lightly-bound wrists. But Luca is in for a lesson, too. He's going to learn that what really separates them is not a fight for power but the folly of pride.
---
GIVEAWAY TIME AGAIN!
Hi folks!  I'm participating in another giveaway!  Yay!  I haven't read this yet, but it looks really interesting to me. I'm going to give it a try.  Enter the rafflecopter thingie below and good luck!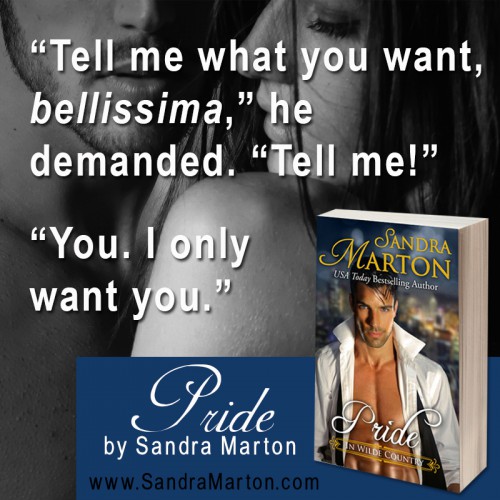 Excerpt for Pride by Sandra Marton:

"Rule number one is that I am in charge tonight."

There it was again. That breathless feeling, as if she couldn't draw enough air into her lungs. That whisper of excitement, sighing through her bones.

"I don't want you to make rules for me. You don't know anything about —"

 He touched her.

She heard a soft whimper of pleasure. Had she made that sound?

"I'm going to take what I want, cara. What we both want."

Images flashed through her head. Luca, moving over her. His hands, his body, his lips holding her captive.

Captive to his touch, to his kisses, to his slow possession.

A honeyed weakness stole through her muscles. She began to tremble.

"Rule number two," he said, raising his head.

Her eyes widened with shock as his black silk tie replaced his hands around her wrists.

Her heart began to race.

"Luca?"

He kissed her again, hard, deep.

"Luca," she whispered as he drew her arms above her head and fastened the ends of the tie to the slatted headboard.

"Rule number three, cara. Tonight, you belong to me."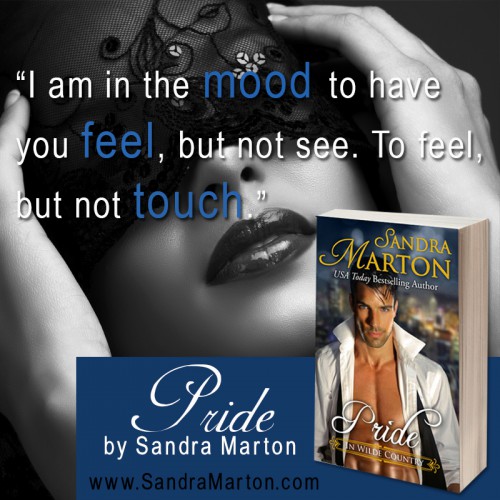 Related Posts