BEWARE, please! This book contains explicit sexual content and may or may not contain Erotica &/or BDSM content as well. As such, it is not suitable or appropriate for readers under the age of 17 or readers who would be offended by this subject matter. My review may also contain conversation of the same. This warning has been extended to include some NEW ADULT as well.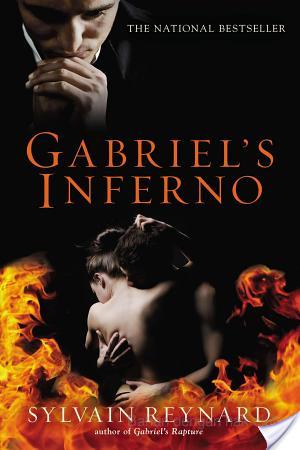 Gabriel's Inferno

by Sylvain Reynard
Series: Gabriel's Inferno #1
Published by Penguin on 2012-07-31
Genres: Adult, Contemporary, Romance
Pages: 576
Format: Paperback
Goodreads


From national bestselling author Sylvain Reynard comes the haunting, unforgettable tale of one man's salvation and one woman's sensual awakening . . . Enigmatic and sexy, Professor Gabriel Emerson is a well-respected Dante specialist by day, but by night he devotes himself to an uninhibited life of pleasure. He uses his notorious good looks and sophisticated charm to gratify his every whim, but is secretly tortured by his dark past and consumed by the profound belief that he is beyond all hope of redemption. When the sweet and innocent Julia Mitchell enrolls as his graduate student, his attraction and mysterious connection to her not only jeopardizes his career, but sends him on a journey in which his past and his present collide. An intriguing and sinful exploration of seduction, forbidden love, and redemption, Gabriel's Inferno is a captivating and wildly passionate tale of one man's escape from his own personal hell as he tries to earn the impossible—forgiveness and love.




How do I write this review without insulting authors around the world?  (That is provided that people around the world actually read this review and I'm not arrogant enough to think that.)
FIRST I start by saying that this book is in my top 10 if not top 5 of the books that I've read so far this year and since this is book #132 for me, this speaks volumes I think.
Now for the insult.. (heard 'round the world… just kiddin'.  LOL)  I'm sorry…
In my humble opinion there are very few authors (that I've read) that can truly deliver a really good believable  intimate love scene.  They try desperately hard but lacks some gram of "something" that I just can't quite put my finger on.  I realize that I may be issuing a totally unfair assumption toward any author (male or female) for saying something like this based solely on the authors to which I've been exposed, but I can't base my opinion on something I haven't had the pleasure of reading.  And to extend the insult just one step further (I'm relentless)… I  have yet to find a male author who can deliver it.  Matter of fact, justified or not, I tend to shy away from romances penned by a male author because I find them lacking.  Not just in certain scenes but overall.  Even to my own ears this sounds just… SAD.  I can't imagine how many awesome reads I'm missing out on because of a few authors who ruined it for me, but it just became a habit of mine that once I see that the author is male I usually bypass it.
As a result of my misguided conceptions I could have very easily missed out on this absolutely FANTASTIC book because, stupid or not, I didn't know that the author was male.  To be honest this was one of my impulse buys based on two things… the cover and the write up.  Nothing else.  I didn't even know the author's name until after I started reading the book and after the first chapter I simply didn't care who wrote it.  I was hooked.
Not only can Sylvain Reynard write a gloriously intimate breathtaking love scene but he can do it without the actual act of "sex" being involved.  Now that's some damn talent!    This book has restored my faith and also enlightened me on the error of my ways and I will NO LONGER FROM NOW ON OUT simply turn a book away based on the gender of the author.  It was very wrong of me to do it in the first place, but you just get into a habit and after awhile it becomes a rule… and I'm not above breaking some rules.
Now, for the book itself… I've already said it was amazing and it's in my top 5 and my fellow Canadian sure as hell knows how to write from the heart and spin an epic romantic tale but beyond everything I said above, this book truly… moved me.  I think that's the best way to put it.  I'm not an overly emotional person when it comes to reading.  I read a lot and there are a ton of books out there that stay with me for days or weeks but for fear of not explaining myself properly… this book actually moved my soul.  This book will stay with me for a lot longer than just a few days or weeks even.  It will be with me for a very long time.  I loved it.  No, I take that back I adored it.  It was breathtaking and shiver-worthy and melt-you-to-your-soul-gooey-but-in-a-good-way and quite simply put… touching.
… and as a side-note but certainly note-worthy… incredibly well researched.  He didn't just write a bunch of stuff down, he knew what he was talking about and it showed.
HUGE FAN!  Incredible debut novel!  Bravo!




Related Posts