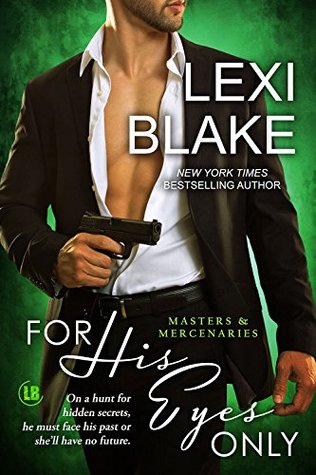 For His Eyes Only

by Lexi Blake
Series: Masters and Mercenaries #13
Published by DLZ Entertainment on 20 February 2017
Genres: Adult, Romance, Contemporary
Pages: 452
Format: Paperback
Goodreads



A night he can't forget Five years ago, Nick Markovic found himself consumed by his quest for vengeance. The one time he managed to find peace was in the arms of Hayley Dalton. Being with her was like bathing in sunlight, and he ached to feel that again, but he couldn't. He gave his oath to Hayley's cousin Desiree, his partner at McKay-Taggart and Knight, that he'd never let his darkness infect Hayley's innocent world.

A spark she can't put out It was years before that Hayley offered everything she had to Nick. After that one amazing night, all she wanted was to be his forever. Unfortunately, Nick's reaction was to walk away from her and never look back. The warm and caring man she'd discovered was gone, and after Des's death, he'd only grown colder. But when Hayley finds herself in mortal danger, she's forced to seek protection from the man who broke her heart.

A flame that threatens to consume them both haunted by the women he failed, Nick can't allow himself to grow close to Hayley again. Running to stay ahead of the powerful forces that endanger their lives, they travel from the lush Garden in London to the glittering lights of Rio. As the threat against her becomes clearer, he realizes that to keep her safe he must confront the demons from his past, even if it costs him a future with the woman he loves.

A Masters and Mercenaries Novel by Lexi Blake
---


Holy freakin' crap!!!  Just when I thought that Lexi Blake could not possibly get better than previous books, she comes out with For His Eyes Only.  I know I am not alone in saying this and I'm sure that all of her fans feel the exact same way as I do, but Lexi Blake makes me feel like a special person every single time I pick up one of her books and dive in. I feel like she writes just for me because I love every single word and syllable and emotion that comes from reading her stories. A warm blanket and a glass of wine doesn't hold a candle to one of her books… but they sure as hell compliment them!
Nick Markovic has been in this series for awhile now and he finally got his own book… and WOW! When he was in the Dallas office of McKay-Taggart we only caught glimpses of his personality through other character's eyes. He is in a word a phenomenal character! I absolutely adore this man! He's just like the rest of them and fits right in along with all of his other brother's and sisters! And yes, that means that he's just as stupid at times and needs a smack upside the head just like the rest of them did at one point or another.
Hayley is the same in this aspect. She fits right in with the other women in these books and can kick ass just as well. She came in like a drowned rat off the street all helpless and vulnerable and a little outspoken and within minutes was showing her strength. I mean, not too many people can give Ian Taggart the finger and get a smile out of him rather than a punch in the head don't you think?
I love Nick's story. It is quite spectacularly written. I love how we got a background story on Des, a fallen soldier from a previous book as well and how she was an integral part of Nick's story and how Hayley related to both of them. It's a beautiful thing to read. I love being able to go back to London for this book too.  I missed Penny and Damon!
There is so much more about this particular book to love that I don't know if I can pin-point anything specific.  I love the relationship between co-workers. I love how defensive they are with their lifestyle when they think there is an outsider judging them. I love the humour even during stressful times like a full on dress down by your boss (or bosses in this case). I love the family dynamic even though not a one of them are related by blood, except of course the Taggart brothers. I love the strength and unity shown in many different situations. I love the action, anticipation and suspense.  I love the tenderness and romance… and all the sexy goodness that goes with. I love it all!
None of it would be possible without the best author on the planet doing her thing. I pray she never gets bored with this group because I fucking love every single one of them!
…. oh and a special thank you for giving Ian and Charlie a huge part in this book.  I really miss these two.  You rock Lexi Blake!


Related Posts