I received this book from the author and/or publisher FREE of charge in exchange for an honest review. This does not affect my opinion of the book or the content of my review.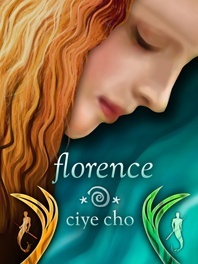 Florence

by Ciye Cho
Series: Florence Waverley #1
Genres: Fantasy & Magic, Young Adult
Format: eBook


(description from Goodreads):  Seventeen-year-old Florence Waverley is out of her depth. Literally. Kidnapped and taken below the waves to the mer world of Niemela, she is the ultimate gift for merman Prince Kiren: a human familiar tied to his side. But nothing is what it seems amid the beauty and danger of a dark ocean.

Every Niemelan has a role to play, from the mermaids who weave towers out of kelp to the warriors who fight sea monsters. But in trying to survive, Florence will end up in the middle of a war between the mer and the Darkness. A conflict that will push her between two brothers: Kiren, the charmer inexplicably drawn to both her and the monsters; and Rolan, the loner who has been pushing her away since the day they met. But in order to take a stand--and find out where she belongs--Florence will have to risk it all: her life, her heart... and her very soul.




I was asked by Ciye Cho to write a review for this book.  I'm completely thrilled to be asked by an author to do a review… and with this little gem it's my pleasure as well.
I never know where to begin when I'm excited about my thoughts on a book.  There are just so many things I want to talk about and at the same time I don't want to give anything away.  So, I guess I'll start at the beginning.
I read the prologue and was instantly intrigued and that intrigue never left during the entire book.  It's catchy and smooth and delightful and colourful and fresh!  I'm sure there are a ton more adjectives I could use but you get the idea.
By "smooth" I'm referring to the flow of the writing.  There's never really any lull anywhere in the story.  Just when you think that it's going to slow down a bit, it doesn't.  It's ……. smooth.  Seamless.  The pages practically turned themselves.The attention to detail is phenomenal.  There are a lot of detailed descriptions but not so much that you're like "get on with it already", it's more like "wow, I feel like I'm actually envisioning the world with my own eyes".  So much so that I could almost reach out and touch some of the things described.  It's an awesome feeling when you're reading a book and you not only feel but see the beauty that is being shown to you through words.  It seems like a breathtaking underwater Haven…. and coming from me that's saying something because I'm terrified of the water!
The characters are so fantastic!  Florence herself is just awesome and so is Rolan & Kiren.  They're very relatable and you just want to hug them.  Yolee is so adorable and you even love to hate the not so likable characters too.  Each one is unique in their own way.
I truly without a doubt enjoyed this book and if I'm not mistaken it looks like there's more of the story to come and I can't wait!
I LOVED IT!!!




Related Posts