BEWARE, please! This book contains explicit sexual content and may or may not contain Erotica &/or BDSM content as well. As such, it is not suitable or appropriate for readers under the age of 17 or readers who would be offended by this subject matter. My review may also contain conversation of the same. This warning has been extended to include some NEW ADULT as well.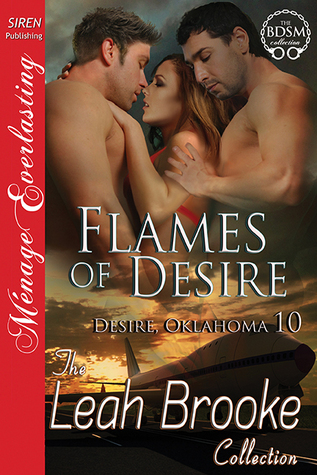 Flames of Desire by Leah Brooke
Series: Desire Oklahoma #10
Published by Siren-BookStrand on August 6th 2015
Genres: Romance, Contemporary, Adult
Pages: 255
Format: eBook
Goodreads



Courtney Sheldon never wanted to go back to Desire, her childhood home - until the residents kicked her family out of town. Now, she has to go back.

Law and Zach Tyler have spent years trying to buy the property, but the elderly lady who owned it refused to sell - at any price.

After meeting Courtney, they know why. They also know they've found the woman they've been searching for. Convincing her that they want her for herself, and not the land she will inherit, proves difficult, but nothing compared to earning her trust when she learns that they not only want to be her lovers - but her Masters .

Drawn into the world of dominance and submission, Courtney finds herself trusting again, and learning the meaning of intimacy - and pleasure. But how can she live in a town with so many bad memories, especially when her father has vowed revenge on her and the residents of Desire for shunning him?

** A Siren Erotic Romance [Siren Menage Everlasting: Erotic Consensual BDSM Cowboy Menage a Trois Romance, M/F/M, whipping, sex toys, HEA]
---
Flames of Desire is book number 10 in the Desire, Oklahoma series by Leah Brooke.
The Ups!
A lot!!!
This book really was extremely hard to put down. The fast pace and dialogue was fantastic! I loved the characters, especially Law and Zach Tyler.  Courtney was a bit wishy washy at first for me, but quickly became a great character. She had her reasons for the wishy washiness. After that I loved her. She's real fun when she loses her temper!
Zach and Law are just like all the rest of the men in Desire… hard-headed, possessive, demanding, arrogant, bossy and yet the most adorable and loving creatures on the planet who take your safety and welfare extremely seriously, almost to a fault. It doesn't hurt that they're tall, built and gorgeous as well. I really want to visit this place!
We didn't get to spend much time with the previous characters in this one, but they were still there showing their support when needed… or at least mentioned in passing. I love that.
Can we say hot sex? Hell yeah, we can! Wheweeeeeee… some of these scenes were on freakin' fire! Seriously hot!
The downs!
There is really only one thing I didn't really care for and that was the time span of the book. I believe the book was pretty much a 3-4 week span excluding the epilogue. I know I said above that I loved the fast pace, but I'm meaning two different areas here. The fast pace I'm talking about above was how the story never lulled. You went from one exciting scene to another. I love that pace.  When I say that the time span was too short for me, I'm meaning that everything happened in a really short period of time, which could potentially put a bit of disbelief in the character's true intentions. How could everyone possibly love and trust someone they just met less than 72 hours ago? Luckily for me, I'm very familiar with the town and how it works having read the previous 9 books so I didn't have any believability problems, but I would have liked to have seen a longer period of people getting to know and trust one another.  A "build-up" if you will.
The Author!
Leah Brooke has a great ability to draw you into this amazing little world and fall in love with her characters. Her choice of words and embarrassing situations that she puts her characters in are great. The snappy little comebacks and the devious little females who are trying to get their mates attention are so hilarious and I believe I already commented on how she can write an amazing sex scene! "Nuff said there!
In a Nutshell!
Another great book in an already great series!  I love Desire, Oklahoma and Leah Brooke!
Related Posts