BEWARE, please! This book contains explicit sexual content and may or may not contain Erotica &/or BDSM content as well. As such, it is not suitable or appropriate for readers under the age of 17 or readers who would be offended by this subject matter. My review may also contain conversation of the same. This warning has been extended to include some NEW ADULT as well.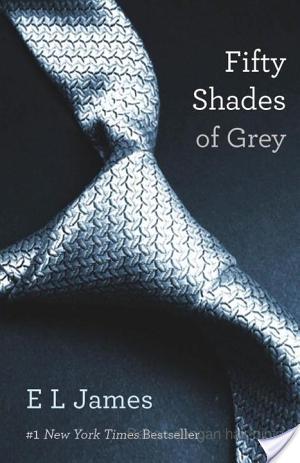 Fifty Shades of Grey

by E L James
Series: Fifty Shades #1
Published by Random House LLC on 2011-05-25
Genres: Adult, Contemporary, Romance
Pages: 360
Format: Paperback
Goodreads


SOON TO BE A MAJOR MOTION PICTUREWhen literature student Anastasia Steele goes to interview young entrepreneur Christian Grey, she encounters a man who is beautiful, brilliant, and intimidating. The unworldly, innocent Ana is startled to realize she wants this man and, despite his enigmatic reserve, finds she is desperate to get close to him. Unable to resist Ana's quiet beauty, wit, and independent spirit, Grey admits he wants her, too—but on his own terms. Shocked yet thrilled by Grey's singular erotic tastes, Ana hesitates. For all the trappings of success—his multinational businesses, his vast wealth, his loving family—Grey is a man tormented by demons and consumed by the need to control. When the couple embarks on a daring, passionately physical affair, Ana discovers Christian Grey's secrets and explores her own dark desires.Erotic, amusing, and deeply moving, the Fifty Shades Trilogy is a tale that will obsess you, possess you, and stay with you forever.This book is intended for mature audiences.From the Trade Paperback edition.




What to say about this book? Well to start… WOW!
I read a lot of these books that are pretty much porn-movies-in-written-word. I very rarely give them a rating or a review because well… they're just a guilty pleasure of mine. I find most or at least some of them mind-numbing. That's not to say that I don't enjoy reading them, I do, very much, but they're just fun little erotic stories that I read sometimes between other books in my favourite genre, which is Young-Adult. Talk about two completely different ends of the spectrum right?
This one though? Wow. This is far… MORE (much much more) than the mind-numbing-erotic-guilty-pleasures that I'm used to. This even surpasses those guilty pleasure books that actually have a good story to them… and yes, there are more than you would think.
This story is such a compelling Love Story between two completely different people with different "lifestyles" who try to find the common ground so that they can make it work because of their undeniable love for one another. Even if one cannot actually admit, accept or say it out loud, it's still "undeniable".
Christian is a control-freak and a tyrant who pretty much answers to no one and gets everything he wants because… well… he can. Yet, he's the most adorable, caring, gentle-giant, old-soul gentleman that I can think of from books or the real world for that matter. He has baggage that he has a hard time dealing with, which makes it hard for him to love and be loved yet he wants it so very much. Anastasia is the right person who just may break that shell of his. She loves him desperately yet still has to battle with the emotions that come with the package that is "Christian-Grey-Fifty-Shades-of-F***ed-up".
They both knocked each other off their axis.
I can even forgive and forget the almost-word-for-word-directly-out-of-Twilight restaurant conversation that speaks of Christians ability to dazzle people with his charm. Oh right… that was the difference. The word "dazzle" was replaced with "disarm".
Other than that, this book was simply amazing! I've dove into book 2 and I just know right now that I cannot wait for book 3 to come in January 2012. This is going on my list of "books that I will re-read".
Related Posts