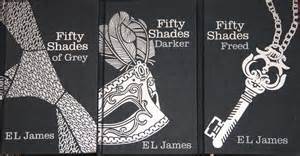 Genres: Adult, Contemporary, Romance

---
I just had to come and brag!  It's quite unlike me but I'm just so friggin' excited.  I was able to get HARD COVERED copies of the trilogy!  They are gorgeous! Which brings me to the next part.  I ordered them from The Book Depository in the UK.  What a fantastic place to deal with.  It was a very pleasant experience.
---
 They came in less than the time they told me they would (and I'm in Canada).
They were extremely well packed.  The box was damaged quite badly and I was terrified to open them but when I got inside the books were wrapped tightly inside of lots of bubble wrap and there wasn't a single mark on them.
They are BEAUTIFUL!!!  Navy blue with silver embossed pictures and there is a satin book mark in each one.
---
The 3rd one is the UK cover and not the US/Canada cover so instead of handcuffs it's a fancy skeleton key but that doesn't matter to me.  I'm in love with them.  They are going to look so nice on my bookcase. Just had to share!  LOL
---
Related Posts