BEWARE, please! This book contains explicit sexual content and may or may not contain Erotica &/or BDSM content as well. As such, it is not suitable or appropriate for readers under the age of 17 or readers who would be offended by this subject matter. My review may also contain conversation of the same. This warning has been extended to include some NEW ADULT as well.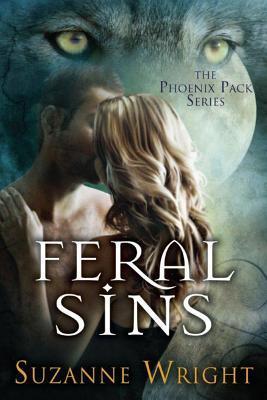 Feral Sins by Suzanne Wright
Series: The Phoenix Pack #1
Published by Montlake Romance on February 19th 2013
Genres: Paranormal, Adult, Romance, Fantasy & Magic
Pages: 428
Format: eBook
Goodreads



When female wolf shifter Taryn Warner first encounters Trey Coleman, an alpha male wolf shifter with a dangerous reputation, she's determined to resist his charms. After all, Trey—who was only fourteen when he defeated his own father in a duel, winning the right to be alpha of his pack—can't have anything to offer the talented healer besides trouble, or so she thinks.

Taryn finds herself drawn in by Trey's forceful demeanor and arctic-blue eyes, and she eventually agrees to enter an uneasy alliance with him. If the two succeed in convincing their respective packs that they've chosen each other as mates, Trey will win valuable political allies, while Taryn will escape an odious arranged mating.

But there are a lot of potential pitfalls to this plan—including the very real possibility that the wolf shifters, overwhelmed by their growing attraction to each other, will be unable to maintain the clear heads needed to pull off the deception.
---


Feral Sins is book #1 in The Phoenix Pack series by Suzanne Wright.
This is a re-read for me.  I'm not sure when I first read this book but I think it was back in 2013.  I just finished book #5 (Savage Urges) in this series last week and it got me wanting to re-read the series so that's what I'm doing.  I'm so glad I did because for one thing it's an awesome series and secondly I don't have a review up for the first two books on this blog.  So it works!
Love this book!  Love this series!
I have a few Werewolf and/or Shifter stories in my collection but this is one of my favourite ones I have to say.  I love how Suzanne Wright writes the dynamic of the pack in this one.  I can't say that it's BDSM, but yet it is.  They may not use safewords and spanking benches like the normal BDSM series that I'm used to, but these are wolves and, therefore, they have their own take on that world.  You still have your alpha possessive males who like to boss their females around, but in the most loving and snuggliest of ways… and you still have your female brats.  Also, the whole family feel is still there with each pack member protecting and caring for each other like brothers and sisters.
The other thing about this series that I'm loving is the fact that the issues behind each story may seem a bit far fetched because, well… we're talking wolf shifters here, but all that aside, it's real issues like abuse and abandonment by people you should be able to trust. That happens every day to people and Suzanne Wright chooses to write about it using shifters.  Loving it!
The Characters & Writing
The characters that she has written are so amazing! You instantly fall in love with each of them… except the ones you love to hate but with equal amounts of passion.  Trey & Taryn are the first characters that we hear from in this series and they are so entirely amazing and loveable! The rest of the pack is just as amazing and you will want to pick up each book to get their stories as well.
The dialogue is so fantastic that you know who's talking just by reading a sentence. Each character has his or her own… flavour?… and you can pick it up just in the writing.  How awesome is that?  The other thing about the dialogue is that sometimes you have to set the book down so you can finish laughing! Other times you're almost in tears because you can feel what the character is feeling at that moment in time.
The flow is awesome. It makes it very difficult to put the book down. Each chapter ends on such a note that you just want to go to the next chapter immediately. It's not a book to read in bed or else you're reading into the wee hours of the morning. Trust me on this! I know!
The Author
Suzanne Wright made me a huge fan based on this book alone and since reading this book the first time I patiently waited for each thereafter.  Each book is about a different beloved character from the pack and trust me… you will not be disappointed. My only disappointment is the waiting, but yet it's so worth it!
In A Nutshell
Buy it! Buy them all! Read them all! You will not be disappointed!




Related Posts