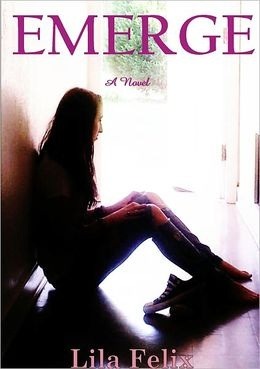 Emerge

by Lila Felix
on 1 September 2012
Genres: Young Adult, Contemporary
Pages: 292
Format: eBook


Jenna has spent too long being complacent and accepting. Her mother and step-father constantly belittle and berate her for simply being alive. She passes through life keeping everyone and everything at arm's length because it's just not worth the questions or the pity party. She takes what they dish out and just tries to survive.

She has thought up a million different ways to get away from them, but lacked the motivation and the sheer will. Like a fast moving tornado, her motivation comes in the form of a boy who cares for her as none other has and who shows her a glimpse of hope, a glimpse into a life she never thought she could have.

But is her new motivation enough to get her out…
---


Emerge is a standalone book by Lila Felix.
I have never read anything by Lila Felix before but wanted to try this one.  It's a story about a shitty home life growing up and overcoming the bad situation and not only surviving but thriving. When I say shitty home life, it was down right child abuse.
The story of Jenna and Carlos is a really great story and I wanted to love it so much because everything was right there, but to be honest it just wasn't executed well enough to make me love it. There was too much missing and too much left for you to guess.
As I said, the premise is all there… but… meh!
Some of the things that happened to this girl was truly horrible but the anticipation wasn't there. She was a tough little character and I really liked her, but there was so much back story missing.
Carlos… I wanted to love him so much but he just wasn't believable. He was way too good to be true. All of his back story was missing. All we knew was that he lived with his brother. Why? Where were his parents? Were they abusive? There seemed to be a hint of his life here and there, but then we never learned it.
One of the most annoying things was there was no accountability. We never really learned the reason behind all of the abuse. No that any reason is acceptable behaviour or justification, but at least it's a history of what exactly is going through the so-called parents minds. We got none of that.
There were a lot of things that I was happy with, but not enough to out weigh the unanswered questions.
I'm guessing that this is one of the author's earlier books so I will definitely try something else from her but this one was just a little disappointing for me. Again, I wanted to love it so much because stories like this about young kids surviving a terrible situation is so rewarding to read.


Related Posts