I received this book from the author and/or publisher FREE of charge in exchange for an honest review. This does not affect my opinion of the book or the content of my review.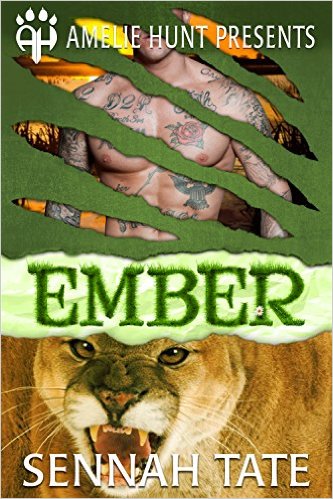 Ember

by Sennah Tate
Series: Sunset Glade Panthers #2
on 09 October 2015
Genres: Paranormal, Romance, Adult
Format: eBook
Buy on Amazon
Goodreads



She never expected the baddest boy in town to be able to break down her walls. But when her cage is finally unlocked, will she run free or stay trapped in her past?

Hailey has led a sheltered life — beyond sheltered, in fact. A freak accident in her childhood made her parents over-protective and left Hailey mentally scarred for life and woefully naive. The death of her grandfather brings her back to the place where it all began and long-repressed memories begin to surface, igniting a thirst for answers.

Meanwhile, Hailey has to contend with the attentions of the town bad boy, Brock Silvanus, a wannabe thug that's intent on running the town with intimidation tactics. He's not as rough with her, though — he could even be called kind in certain instances — but she's been warned not to lower her guard.

No amount of sexy smirks and rippling abs can make a guy less bad, right?

As Brock attempts to help Hailey unlock the secrets to her past, they grow closer, and Brock's entire way of life is thrown into question. Should the Alpha stay true to his badass past, or open himself to the mate he thought he'd lost forever?
Ember is book #2 in the Sunset Glade Panthers series by Sennah Tate.
---
I took part in Amelie Hunt's Arc Wave promo. Whoever signed up was given (for an honest review) five series of three books each of ARC's from five different authors to read and review by October 9th. These are all novellas and I was a little stumped on how I was going to do up the reviews, but decided to break them into five posts with each having all three books by the same author.
So let's get started!  
---
I really enjoyed the first book, Spark, in this series, but this one was so much better! The relationship between Hailey and Brock was so much… just more.
I truly thought Brock was an asshat in the first book until we were let in on some information about him that made him a little bit more vulnerable to us. This book elaborated on that vulnerability and he's great! I really like him.
Hailey started off being a bit weak, but as the book advanced so did her character. She's awesome! I think she can give Brock a run for his money. I see fun times ahead for these two.
Sennah Tate continues to impress me with this story. It's different and I like that!
In A Nutshell:
Really good!  Very much looking forward to the third book.
Related Posts