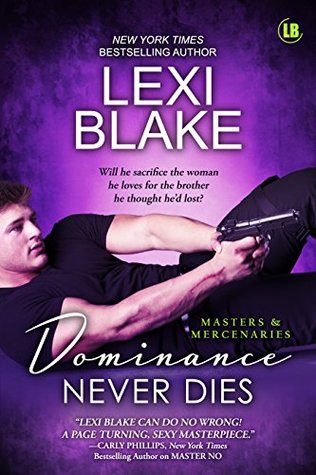 Dominance Never Dies by Lexi Blake
Series: Masters and Mercenaries #11
Published by DLZ Entertainment on 14 June 2016
Genres: Adult, Romance, Contemporary
Pages: 347
Format: Paperback
Goodreads



A loss he can't forget

Since losing his twin brother, Theo, in the line of duty, Case Taggart has felt dead inside. The former Navy SEAL has dedicated himself to his family and their business but he can't help but feel stuck as he watches everyone else move on with their lives. Only meeting the beautiful Mia brings Case out of his misery, until he discovered she was just a reporter looking for a story. Betrayed, he turned his back on her and never looked back.

An attraction she can't deny

Mia Danvers can't get Case Taggart out of her head. Though they hadn't been lovers, she'd felt more for him than for any man she'd ever met. Growing up in the shadow of her over-protective, older brothers, she felt free when she was with Case and she longs to feel that way again. She knows that if she can find any trace of Theo Taggart, Case will be forced to let her back into his life. Months of searching have finally paid off and she knows this is her second chance.

A desperate search

Case and Mia follow the clues they hope will lead them to Theo and the villainous Hope McDonald, but the search becomes increasingly dangerous. From Dallas to South America and beyond, dark forces work against them and threaten their lives. With each step forward, Case and Mia are pulled closer together and forced to confront their mutual attraction. But when the truth about Theo is revealed, Case may have to make a choice between his brother and the only woman he's ever loved.
---


Dominance Never Dies is the 11th book in the Masters and Mercenaries series by Lexi Blake.
Have you ever fell in love with a group of fictional characters so much that they feel so entirely real to you?  I know that's a really stupid question to all you lovely readers out there because if any of you guys are even a fraction like myself and vice-versa, then we all know how real the stories can get for us.
I've been reading since I was able to hold a book and figure out what words were and how they formed a sentence. To this very day I have never in my life found a series, trilogy, or even a single book that I love as much as I love this series. There are some really great ones out there and I have all of my favourites dear to me some place special on my bookcase, but this series tops every single one of them, and there isn't a space on my bookcase special enough for the Masters and Mercenaries series and all of the spin offs.
I go into some sort of zone each time a new book comes out. Not unlike Homer Simpson, gotta say! If I get in any of kind of rut… or sometimes just because… I'll re-read some or all of the books in the series.  I absolutely adore this family… and yes I said FAMILY because that is what these people are.  A family who goes on missions and fights and kills people and plots and plans with (and against) each other and in the end all come together to be the family again. I kept ooh'ing and ahh'ing throughout the entire book and each time I started to tell my husband what was up and then had to stop… he's reading the series and isn't caught up to me yet so I kept having to keep my mouth shut.  It was freakin' hard!!! I wanted to scream out things and I couldn't!
This was Mia and Case's story and just like each book in the series it is freakin' phenomenal!  The story is fantastic, but that's not what grabs you. It's the writing.  Lexi Blake weaves her little magic imagination until it spills out onto the pages in words that reach right off paper and drag you into a world so exciting and dangerous that your heart is pumping the entire time. When the danger slows down your heart doesn't because Lexi's way of slowing down a dangerous pace is spending time with a sexy hot Taggart in a bedroom (or dungeon) while he's getting his "Dom" on.  How the hell is your heart supposed to slow down from that?
We got to see a side to Case Taggart that we didn't have the pleasure of before. He's so amazing!  So much like Ian and Sean. It's awesome. We got to see a connection between Case and Ian that was sort of missing before. It took Case a bit to feel like he was truly a part of the Taggart brothers niche. He so IS, but he felt just outside of the circle somehow.
I LOVE MIA!!! We saw some of her in the last book (From Sanctum With Love) and we were able to really get in touch with her in this book and I thought Charlie was the kick ass dominant female… or even Grace & Erin…. but Mia totally fits right into that mold. Awesome new member to add to the growing McKay-Taggart family!
I hate to gush on and on but there simply isn't anything more to say.  I loved this book, I love this series and I adore Lexi Blake. She brings happiness to my life with her amazing talent. She has gotten me through some really rough times when the only light of the day was reading about Ian Taggart and his merry band of sexy hot misfits. There are times when I'm just not in the mood for anything, but I will ALWAYS be in the mood for a Taggart or an extended Taggart family member.
… One more little tiny note…. this book was left with a bit of a cliffy ending. I expected it and yet it still does not help that I have to wait until October to get more. Ms. Blake sure knows how to leave you so that's she's guaranteed to have you come back. So, the wait is on again! I'm in agony!




Related Posts