BEWARE, please! This book contains explicit sexual content and may or may not contain Erotica &/or BDSM content as well. As such, it is not suitable or appropriate for readers under the age of 17 or readers who would be offended by this subject matter. My review may also contain conversation of the same. This warning has been extended to include some NEW ADULT as well.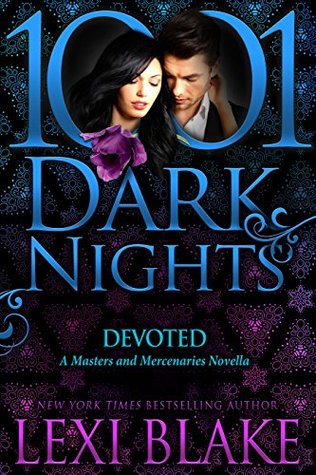 Devoted by Lexi Blake
Series: Masters and Mercenaries #10.5
on April 12, 2016
Genres: Adult, Romance
Format: Paperback
Goodreads



A woman's work

Amy Slaten has devoted her life to Slaten Industries. After ousting her corrupt father and taking over the CEO role, she thought she could relax and enjoy taking her company to the next level. But an old business rivalry rears its ugly head. The only thing that can possibly take her mind off business is the training class at Sanctum…and her training partner, the gorgeous and funny Flynn Adler. If she can just manage to best her mysterious business rival, life might be perfect.

A man's commitment

Flynn Adler never thought he would fall for the enemy. Business is war, or so his father always claimed. He was raised to be ruthless when it came to the family company, and now he's raising his brother to one day work with him. The first order of business? The hostile takeover of Slaten Industries. It's a stressful job so when his brother offers him a spot in Sanctum's training program, Flynn jumps at the chance.

A lifetime of devotion….

When Flynn realizes the woman he's falling for is none other than the CEO of the firm he needs to take down, he has to make a choice. Does he take care of the woman he's falling in love with or the business he's worked a lifetime to build? And when Amy finally understands the man she's come to trust is none other than the enemy, will she walk away from him or fight for the love she's come to depend on?
---




Devoted is book #10.5 in the Masters and Mercenaries world by Lexi Blake.
"I cannot get enough of anything that this girl writes!"
It simply comes down to that statement.  At this moment in time I think she could type up a phone book and throw a few witty comments in there from her notoriously witty dialogue and it would be a favourite of mine.  I absolutely adore this lady!
You need to read a previous Sanctum (Masters and Mercenaries novellas) book to get a heads up on previous characters but we first met Flynn Adler in Adored.  He's Mitch's brother and Amy is Bridget's sister!  Bridget was first introduced to us way back in book #2 (The Men with the Golden Cuffs).  She is one of Serena's best friends.  Plus she had her own book Cherished.
Anyway… Flynn and Amy each own/run their own company and are somewhat rivals even though they have never met.  Kai & Wade pair the two up as training partners at Sanctum and the rest is the roller coaster ride of epic proportions.  The sizzling hot chemistry between these two is evident from the very first time they met until the very end.  It's so much fun to read. There aren't as many scenes as usual, but this was a smaller book too.  The scenes that were there are awesome.
Like with all of Lexi's books I'm happy to report that she reaches out to previous characters and gives little hints here and there about how they are all doing and some even get to make an appearance. I so very much love that when that happens. Seriously, I have an addiction to these characters and this amazing world that Lexi created for them.
Huge fan of Lexi Blake. She is an extremely talented author. I have read everything that she has written as Lexi Blake and Sophie Oak and co-written with Shayla Black.  I cannot get enough!








Related Posts