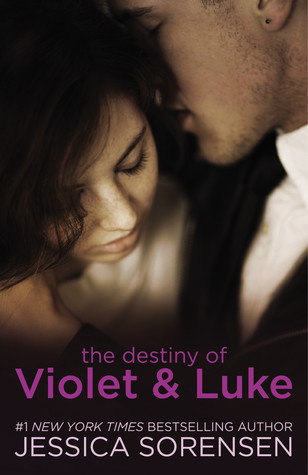 The Destiny of Violet & Luke

by Jessica Sorensen
Series: The Coincidence #3
on 2014-01-07
Genres: Contemporary, New Adult
Pages: 416
Format: Paperback
Goodreads


From the #1 New York Times bestselling author of The Ever After of Ella and Micha comes a story of scars, courage, and new possibilities . . . Luke Price's life has always been about order, control, and acting tough on the outside. For Luke, meaningless relationships are a distraction-a way to tune out the twisted memories of his childhood. He desperately wishes he could forget his past, but it haunts him no matter what he does.Violet Hayes has had a rough life. When she was young, she was left with no family and the memory of her parents' unsolved murders. She grew up in foster homes, living with irresponsible parents, drugs, and neglect, and trying to fight the painful memories of the night her parents were taken from her. But it's hard to forget when she never got closure-and she can't stop dreaming about what happened that tragic night. To make it through life, she keeps her distance from everyone and never allows herself to feel anything.Then Violet meets Luke. The two clash instantly, yet they can't seem to stay away from each other. Although they fight it, they both start to open up and feel things they've never felt before. They discover just how similar they are. But they also discover something else: The past always catches up with you . . .




I thought I had done this review but I guess not.  I read this book back in January and I'm currently reading the 4th book (The Probability of Violet & Luke) and I just realized that this review wasn't here.
This book is amazing!  I truly loved Callie & Kayden's first two books as well, but I remember while reading those two I couldn't help but hope that Jessica Sorensen was going to put a book out for Luke Price who is Kayden's best friend. He was such a great secondary character in the first two books that I was hoping for his own book and I got my wish.
Luke is an extremely troubled young man and once you hear his story there is little wonder why. His best friend doesn't even know the whole story.  Callie knew something was up too, but didn't push him and they were both just there for him, but he never went to them.  He on the other hand was there for both Callie and Kayden as well.  It's quite a group of friends I gotta say.  I sure wish I had that growing up.
So, in this book we get to the root of Luke's problem and oh my God your heart just breaks for him. The evil he has dealt with his entire short life is just beyond.  He feels completely alone until he has someone just as fucked up as he is literally fall into his path.
Enter Violet Hayes, who just happens to be Callie's roommate.  Violet was in book 2 and she was just nasty 95% of the time, but Callie has a heart as big as all outdoors so she gave Violet her space and the benefit of doubt because she figured there was some explanation to her darkness.  Boy, was there!
Violet has dealt with way more than any little girl should and it hasn't stopped yet.  She's still dealing with crap.  So is Luke.
Luke & Violet are so much alike that it's scary.  They both grew up with shitty childhoods.  They both just can't deal with their pasts and do things that help them forget if only for a short time.  They're both adrenaline junkies, and they both put themselves in situations that are less than ideal and always seem to be trying to escape.
Like with any two people who are so much alike, they clash, at first.  Then they start to realize that they just can't stay away from each other.  They are connected in so many ways.  Ways they don't even realize yet.
 It's all about her. Every movement, every breath, the way my heart beats firecely inside my chest, is all because of her. Violet owns me. 
I loved this book.  I had been hoping for Luke's story to be told and although my heart breaks for this character, the author did not disappoint with his story.  It's riveting.  You just can't stop turning those pages.  You're heart is breaking and you can't breathe waiting for the next ball to drop, but you put yourself through the heartbreak because you just know there is hope for both Luke and Violet.  It's just a sad yet amazing story of existence through unbelievable and horrid circumstances.  I say "existence" because these two haven't LIVED yet.  They're existing. They're surviving the only way they know how.  It will be nice to see them living their lives the way they should.  We were able to catch a glimpse of what happiness is for them and I can't wait to see it again.




Related Posts