BEWARE, please! This book contains explicit sexual content and may or may not contain Erotica &/or BDSM content as well. As such, it is not suitable or appropriate for readers under the age of 17 or readers who would be offended by this subject matter. My review may also contain conversation of the same. This warning has been extended to include some NEW ADULT as well.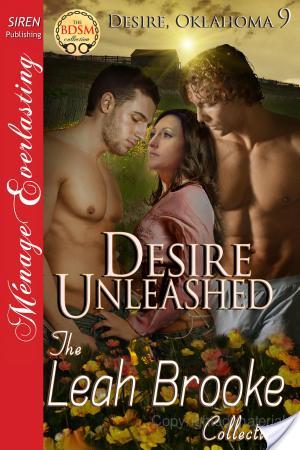 Desire Unleashed by Leah Brooke
Series: ,
Published by Siren-BookStrand on 2014-05-21
Genres: Adult, Contemporary, Romance
Pages: 339
Format: eBook
Goodreads


[Siren Menage Everlasting: Erotic Consensual BDSM Menage a Trois Romance, M/F/M, spanking, sex toys, HEA] Jake and Natalie Langley's marriage was perfect, or so she thought. But, something had changed--a distance that had never been there before. And she didn't know why. Braced for the worst, she's shocked at news she'd never bargained for. Hoyt Campbell was on his way, and he wanted to be a part of her life again. Scared of the feelings she'd harbored for her son's biological father, and the only other man she'd ever loved, she begs Jake to refuse to allow him to come. But, Hoyt, now retired from the Navy, was already on his way, determined to win back the only woman he'd ever loved, even if it meant sharing her with the man he'd trusted to take care of her long ago. Despite her feelings for Hoyt, Nat's determined to fight for her marriage. But she hadn't counted on both men uniting in their decision to share her--a decision that would change their lives forever. ** A Siren Erotic Romance
---




This review was a little harder to write for me, I'll be honest.  The story itself was pretty non-existent.  Not much going on there.  A little excitement with the whole View Spoiler »bank robbery and kidnapping thing but that was pretty much it. « Hide Spoiler Bleh.
What I did like… no… LOVED was the relationship between Jake and Nat and then bringing in Hoyt to share.  I gotta say, I never wanted anything to take away from the relationship between Nat and Jake.  They just rock together I think.  I love those two. Nat's been an amazing character throughout this entire series… so has Jake.  So, I didn't see any need to bring Hoyt in.
This book in the series might not have had a great "story" behind it, but gosh, it's got some of the most intimate and sweetest moments between Nat and Jake as well as Nat and Hoyt and then with all three of them that just makes your heart melt.
I love Jake.  I have since book 1.  He's been mentioned in every book and I finally got to hear his and Nat's back story and it was really really sweet.  Jake's a complete doll.  I love him. He's truly a great character!
Nat is Jesse's sister and she's just one tough cookie.  She just will not show weakness nor let anyone know what's really going on inside her head, but she can't fool Jake. She's got a soft side that's just adorable and makes her a fantastic character.  She's fierce and sweet.  Oh… and I love her cocky attitude.
Hoyt?  Gotta say… I gave him a tough time getting on my good side, but he won me over. He's a pretty great character too and fits in very well with the men of Desire, Oklahoma! It's like he was always meant to be there.
So, story not so great… but I can overlook that because Leah Brooke gave me a great insight into Jake and Nat's history that needed to be told… and it was told very well.  I love these two even more and now have another character to love in Hoyt.
Brooke creates great characters.



Related Posts