BEWARE, please! This book contains explicit sexual content and may or may not contain Erotica &/or BDSM content as well. As such, it is not suitable or appropriate for readers under the age of 17 or readers who would be offended by this subject matter. My review may also contain conversation of the same. This warning has been extended to include some NEW ADULT as well.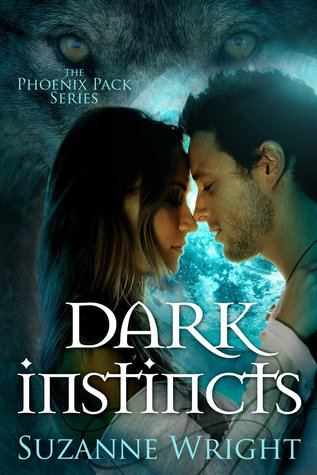 Dark Instincts

by Suzanne Wright
Series: The Phoenix Pack #4
Published by Amazon Publishing on April 7th 2015
Genres: Fantasy & Magic, Paranormal, Romance
Pages: 322
Format: eBook
Goodreads


It happens whenever wolf shifter Roni Axton is near Marcus Fuller: a crackle of sexual awareness that's intoxicating…and deeply annoying. Marcus is a pack enforcer who oozes power, but Roni is lethal in her own right—nothing like the flirty females who flock around him. Even still, his possessive gaze makes one thing clear. Marcus has singled her out for seduction, and he wants to make her sit up and beg.No matter how aloof and unfazed Roni acts, Marcus can tell she wants him. When a brutal attack by a jackal pack forces them to work together, it's the perfect opportunity for Marcus to chip away at her defenses—until he falls into his own trap, completely unprepared for the intensity of their connection. Roni is the only one who's ever seen past his shifter charm and discovered the man hiding beneath it. And for Marcus, claiming Roni once will mean needing her forever.
---
Dark Instincts is book #4 in The Phoenix Pack series by Suzanne Wright.
I love this series!
This book technically could be read as a stand alone and enjoyed, but I sure hope people don't do that because you learn about these characters in the previous book and you learn about the rest of the pack from previous books as well.  So to get the full story they should be read in order.  Besides that, they're fantastic, they should be read!
Story
This is one of my favourite Shifter romance series.  It's packed full of excitement, humourous dialogue, sexy male characters, strong female characters and romance that just melts you into that couch, favourite chair, bed or even a hot bath.  The stories themselves that revolve around each character is inventive and keeps you on the edge of  your seat.
Dark Instincts, as with all of the books, brought everyone from the Phoenix pack together as well as the Mercury pack, which holds ex-Phoenix pack members and allies…. or at least people they love to hate. They are all a big bunch that aren't true family but fight like brothers and sisters.  It makes for a lot of fun reading with all of the antics.
The growing romance between Marcus and Roni is really awesome to experience with them.  They both have issues from their past and work through them together.  They aren't so different when it comes to letting go of issues that are holding them back from loving and being loved.  Not to mention outside forces trying to keep them apart.
It was an exciting story from start to finish.
Characters
Amazing characters.  All of them not just Roni and Marcus.  I love the building of each character's dynamic and inner soul.  You learn a little something about each of them with each new book.  I also love how the author focuses on the main two characters but yet brings updates from the others and also a little something-something from a particular character.  That particular character will be the main focus of the next book.  She just introduces you to them in such a way that you think to yourself.. "Gee I'd like to know more about so and so" and then the next book is their's.  Love it!  It gets me excited for the next book.
Marcus is… well, he's just so loveable and adorable.  He's strong but yet has a vulnerable side to him that just makes you melt for him.  I love him!  I've actually loved him from a couple of books back so he's just nestled right into my heart there.
Roni I met in the last book and I just knew this book was going to be about her. She's fantastic!  She comes off as a hard ass character but there is a soft side there.  She just doesn't want anyone to see it. She's strong and kick-ass and I love her!
The rest of the gang are great and I can't wait to read their books or revisit with them if their books are already out.  One in particular that I can't wait for is RYAN'S.  I just love the broody quiet type.  YAY!
Even the characters that you're suppose to "love to hate" are great because you really do hate them and you really do love every minute of that hate.   I found myself a couple of times wanting to get back to one or more of the foes and seeing them get smacked down.  It was fun.
The Nit Picky Corner
I loved this book, please do not get me wrong.  There was just one distracting little thing though.  We went from Roni's POV to Marcus' POV from chapter to chapter and sometimes within the same chapter. So long as it's indicated and clear I have no problem with that.  Actually, I kind of love it when a book is from both sides.  It lets me know what each character is thinking rather than guessing based on what the opposite character sees and hears.
What I found with this book though was we would be in the middle of hearing from Roni and then a sentence seemed to be from Marcus' POV right in the middle of the same section that should have been Roni's POV… and vice-versa when it was Marcus' turn.  It didn't happen all the time, but enough that I had to stop and re-read the paragraph or section to make sure I was reading it properly… and maybe I wasn't.
Author
Suzanne Wright is fantastic!  I've been a huge fan ever since book 1.  I've only reviewed the third book on here because I  just recently started reviewing anything that wasn't Young Adult on this blog.  I've loved every book so far.  I find her to be a phenomenal writer.  She weaves a tale that has you on the edge of your seat the entire time.  The pacing rises and falls with each chapter perfectly.  I have a hard time putting the book down at the end of any chapters… which makes for some long nights for me.  She's able to bring every character to life right in front of you.  She has an amazing sense of humour since she writes her characters with some really funny sarcastic snark.  I find it hilarious!  I'm a huge fan!
One final thought
The whole insta-love thing.  I sometimes don't mind it and I sometimes really hate it. When you're dealing with shifters sometimes the attraction has to be instant because hello… that's what shifters and werewolves do… the minute they smell their mate, they know and it's instant.
Not with these books… that's one of the things I really love about these wolves is that they may smell or sense their mate… but it's never clear and it's NEVER instant!  It may be a quick attraction but never insta-love. It's a process. A very fun-to-read process.


Related Posts