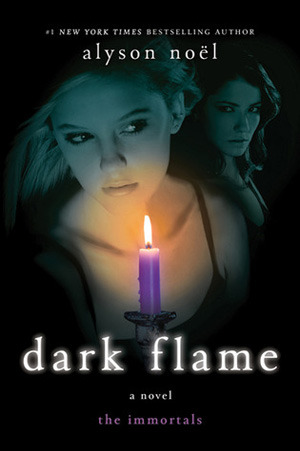 Dark Flame

by Alyson Noël
Series: The Immortals #4
Published by Macmillan on 2010-06-22
Genres: Fantasy & Magic, Young Adult
Pages: 336
Format: Hardcover
Goodreads


In Alyson Noel's most darkly seductive Immortals novel yet, Ever fights for control of her body, her soul—and the timeless true love she's been chasing for centuries.Ever is trying to help Haven transition into life as an immortal.  But with Haven drunk on her new powers and acting recklessly, she poses the ultimate threat—exposing their secret world to the outside.  As Ever struggles to keep the Immortals hidden, it only propels Haven closer to the enemy—Roman and his evil companionsAt the same time, Ever delves deeper into dark magick to free Damen from Roman's power. But when her spell backfires, it binds her to the one guy who's hell-bent on her destruction. Now there's a strange, foreign pulse coursing through her, and no matter what she does, she can't stop thinking about Roman—and longing for his touch.  As she struggles to resist the fiery attraction threatening to consume her, Roman is more than willing to take advantage of her weakened state…and Ever edges closer and closer to surrender.Frantic to break the spell before its too late, Ever turns to Jude for help, risking everything she knows and loves to save herself—and her future with Damen …




I really enjoyed this book, don't get me wrong, but there was something entirely maddening about it too.  Not in a good way either.  Usually when a book angers me it's because the story has me so wrapped up that I'm frustrated but in a good way.   This is different.  I'm angered this time because this is book 4 and although the character building and storyline is great, I'm angered because the story seems to be stuck in the same place now as it was in book 1.  Without trying to give away spoilers they are no further ahead.  Yes, again, the character building has moved forward but the situation is no further ahead than it was. 
Again without giving away spoilers it's hard to explain what I mean, but I think the relationship/romance side of things could be all tied up by now and then let's move on with future adventures, but the adventure seems to be the relationship/romance part itself and it's getting frustrating because we're about to get into book 5 in December and we're still stuck on the same subject of whether the two will be together or not.
I still love this series but I hope that we finally get some answers in book 5, Nightstar.



Related Posts