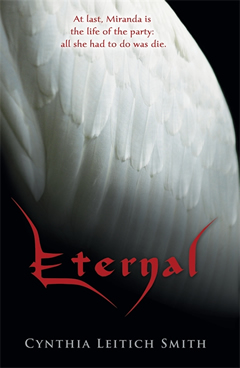 Eternal by Cynthia Leitich Smith
Published by Candlewick Press on 2010-03-02
Genres: Paranormal, Young Adult
Pages: 320
Format: Paperback
Goodreads

At last, Miranda is the life of the party: all she had to do was die. Elevated by none other than the King of the Mantle of Dracul, she goes from high-school theater wannabe to glamorous fiend overnight. Meanwhile, her guardian angel, Zachary, demoted to human guise as her personal assistant, has his hands full saving his girl's soul while planning a fast-approaching Death Day gala. In alternating viewpoints, Miranda and Zachary navigate a cut-throat aristocracy as they play out a dangerous, diabolically witty love story for the ages.
The last few chapters were written very well.  They held my interest.  They climaxed at the end of each chapter to anticipate the next.  Questions were answered.  Really good final quarter.  The fact that I had to work so hard to remain focused to finish the book though seriously dropped my rating.
I give it at best a 2 and that's being generous in my opinion.  I almost never finished it so it almost got a 1 but the last few chapters redeemed itself.
Love the cover!  It's a beautiful cover.   But.. you know what they say about covers.
The male "hero" character of the book was a complete wuss until way late in the book!  The female lead character showed no strength until way late in the book.  Other characters, which had major potential of being great only had bit roles and we learned very little of them.  After I read the first couple of chapters online I thought that this book was going to be great and I was sorely disappointed.


Related Posts