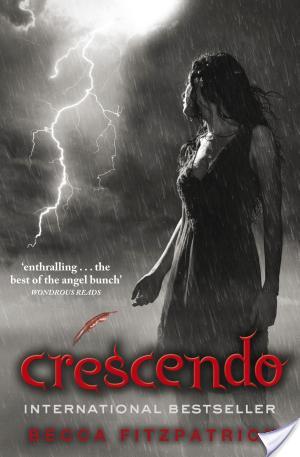 Crescendo

by Becca Fitzpatrick
Series: Hush, Hush #2
Published by Simon and Schuster on 2010-11-10
Genres: Paranormal, Young Adult
Pages: 432
Format: Hardcover
Goodreads


Nora should know better than to think her life can return to normal after falling in love with a fallen angel. And Nora's life isn't normal - her dad was murdered, and the facts about his death just don't add up. Now Nora's own life is in imminent danger. Are she and Patch strong enough for the battle ahead?


Loved it!  I remember when I read Hush Hush that I fell in love with the characters and I was surprised to see that there were quite a few who did not enjoy it as much as I did.  This follow-up is even better than the first book so I'll be baffled completely to see negative reviews. 
The story is grittier and more dangerous even than the first and the twists and turns are just… compelling.   I could kick Nora for being so pig-headed at times but regardless she's one of the strongest female characters ever.  Good job Patch is a strong character as well. He needs to be in order to handle her.   I love her don't get me wrong, but she just won't listen to reason sometimes and if she did it would be better for her but then again, we wouldn't have had a story to read.
I'm thoroughly in love with Patch.  I fell in love with him in Hush Hush and he's even better in this one!   Can't wait for Silence to come out so I can stop hanging onto this cliff!!  Get me down!!!!




Related Posts