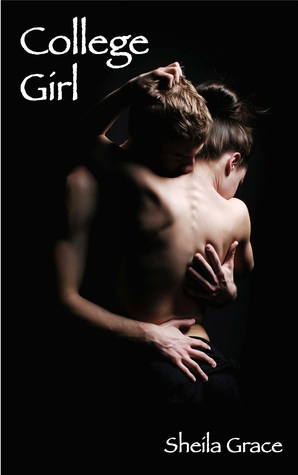 College Girl by Sheila Grace
Genres: Contemporary, New Adult, Romance
Format: eBook


(description from Goodreads):  She's a student. He's the teacher. And their worlds are about to collide ...

In her second term of college Alex Reed has one thing on her mind: passing Calculus. So when her professor introduces Ryan Matthews, the new TA, she writes him off in a second. Tall, hotter than hell—clearly a major ego case. Whatever. Guys like him don't notice girls like her. Besides, she's never even kissed a guy, so her sex-crazed roommate can have Mr. Hot.

Ryan Bennett left the family business and his pill-popping ex-fiancée to do something for himself. Then, only months before finishing his doctorate under an assumed name, he walks into his advisor's freshman Calculus class and sees her. Alex Reed. The last thing he needs. Young, inexperienced—and off limits. But when someone who shouldn't follows her across campus at night, he's forced to do something about it.

What happens next will change their lives forever.




Is it wrong that I loved this book?  My conscience is telling me a resounding "Hell Yes!" but then the more rational side of me is thinking, not about the annoying characters and their decisions, but how the author made you want to keep turning those pages in spite of them.  How the hell did she do that?
There were times I wanted to reach into those pages and just smack Alex and Ryan both upside the head for being so stupid and irrational… but the fact that an author can instill such feelings in the reader truly reveals just how talented she is.  I simply could not put this book down.  Each chapter had me battling the whole "will they ~ won't they" thing and as frustrating as that is to go through, because it does get tiring for a reader, I found myself not giving up on them.  I was routing for them.  Cheering them on in their stupidity if you will… and oddly enough loving every minute of it.
I could sit here all day and go on and on about all the annoying things throughout this book that simply grated on my nerves, but the bottom line is, I read every single solitary word of it (and some scenes twice… yeah ladies you know the ones!) and I couldn't get enough of it nor fast enough.  I simply devoured this book from cover to cover.
Fabulous writing that gripped me from beginning to end!  Fabulous, albeit annoying and frustrating, characters.   Alex and especially Ryan are very adorable and lovable characters.  I know the author had a poll on whether to write a sequel or not and my opinion, for anyone who gives a crap…. PLEASE PLEASE PLEASE write a sequel!!!   I'd like to see where this goes and learn more about some things that could end where they are, but also could be elaborated on to extend the story.
I know I sound very contradictory in my review but the bottom line is:   I loved it!  Rationality wins this time.



Related Posts