BEWARE, please! This book contains explicit sexual content and may or may not contain Erotica &/or BDSM content as well. As such, it is not suitable or appropriate for readers under the age of 17 or readers who would be offended by this subject matter. My review may also contain conversation of the same. This warning has been extended to include some NEW ADULT as well.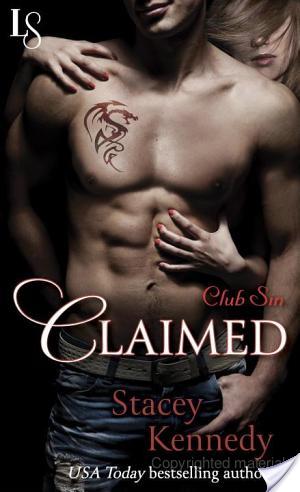 Claimed by Stacey Kennedy
Series: Club Sin #1
Published by Random House Publishing Group on 2013-08-05
Genres: Adult, Contemporary
Pages: 230
Format: eBook
Goodreads

Presley Flynn is ripe to experience her secret fantasies . . . and Dmitri Pratt wants nothing more than to fulfill them. Once inside the elite Club Sin in Las Vegas, Presley is nervous but excited--and determined to surrender to her every desire. Dmitri is her Master, and his touch is like fire. With each careful, calculated caress, he unleashes her wildest inhibitions, giving her unimagined pleasure.

Presley is different than the other submissives Dmitri has mastered. The BDSM lifestyle is new to her, and so are the games they play at Club Sin. From the start, Presley stirs emotions in Dmitri far beyond the raw purity between a dom and the perfect sub. For the ecstasy they share goes beyond the dungeon, igniting a passion that claims the very depths of the heart.
---
Claimed is the 1st book in the Club Sin series by Stacey Kennedy.
It's not a bad book and actually, it's quite a sexy little steamy read.  It's just that it lacked that whole "Holy Crap" feeling I like to get when I'm reading these novels.  I want my alpha males to be hot and steamy and I got that in spades, but for some reason it's just not quite that holy shit stuff that I'm looking for.
Dimitri is very sweet and very dominant.  He's a Vegas mogul who's president of a casino.  In his personal life he owns a mansion with Club Sin in the basement of it and it's very exclusive and a well kept secret.  He's also a Master. He had a vulnerable side, which was kind of nice to see.  Usually the alpha males are all male dominance "nothing can touch me" attitudes.  This was a little refreshing.  Not that he appeared flimsy at all.  He still exuded male dominance.  Just one that had a bit of a softer side to him that he tried not to let anyone see.
Presley is coming from a breakup after 8 years with an ass who cheated on her.  She's also kinda weak, I gotta say.  I like my characters strong and I didn't find her to be.  I realize that this was part of the book was to have her a little weak so that Dimitri could work on this with her, but still.  She could have been a bit more spunky and not so door-matty.  Although there were a couple of times her spunk showed through and that was great.
I don't know.  I can't quite put my finger on it.  The story wasn't too bad.  The characters weren't too bad.  There was just something lacking for me and I think it was lack of excitement and build up to a scene.  The scenes just sort of happened with no expectation leading up to it.  The tone from before the scene to during the scene to immediately after the scene was all the same tone.  There was no rise nor fall to it.  It's like hitting a key on the piano and hitting the same key over and over again and then the song is done.
It doesn't mean that the characters and story weren't a good idea, I just think it was executed slowly and without excitement.  Which, brings me to the final chapter of the book.  A good chapter but way too soon.  I felt like there should have been a few more chapters in between where Dimitri knows what he wants to having the last chapter.  It was just all too quick and rushed.
Having said this, however, I do own the next two books in this series which tells the story of two more of the masters from Club Sin.  I'm not giving up yet.  I want to hear their stories.
Related Posts