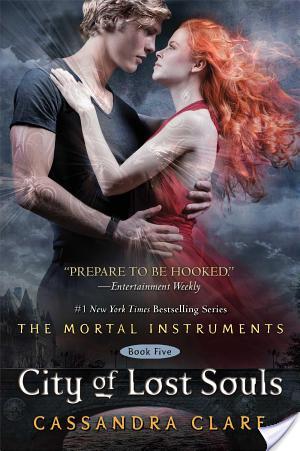 City of Lost Souls by Cassandra Clare
Series: The Mortal Instruments #5
Published by Simon and Schuster on 2014-03-04
Genres: Fantasy & Magic, Paranormal, Young Adult
Pages: 535
Format: Hardcover
Goodreads

What price is too high to pay, even for love? Plunge into the fifth installment of the internationally bestselling Mortal Instruments series and "prepare to be hooked" (Entertainment Weekly).  When Jace and Clary meet again, Clary is horrified to discover that the demon Lilith's magic has bound her beloved Jace together with her evil brother Sebastian, and that Jace has become a servant of evil. The Clave is out to destroy Sebastian, but there is no way to harm one boy without destroying the other. As Alec, Magnus, Simon, and Isabelle wheedle and bargain with Seelies, demons, and the merciless Iron Sisters to try to save Jace, Clary plays a dangerous game of her own. The price of losing is not just her own life, but Jace's soul. She's willing to do anything for Jace, but can she still trust him? Or is he truly lost? Love. Blood. Betrayal. Revenge. Darkness threatens to claim the Shadowhunters in the harrowing fifth book of the Mortal Instruments series.
This is going to be an incredibly hard review to write for me.
 The Mortal Instruments by Cassandra Clare is and probably always will be one of my ALL-TIME FAVOURITE Young Adult series to date.

 
For all of the non-lovers of Twilight you guys just won't get this, but this series out-weighed Twilight for me!  I know, "Duh!!!"  Well for me being a mega Twilight fan (Twilight books and Stephenie Meyer NOT the movies and Kristen Stewart… just clarifying!) to say that another series out-weighed it is a huge step for me.  I thought Twilight would be the highlight of my reading world, and it was, until I read The Mortal Instruments.  I read all of the Twilight books at least 15 times each and have only read these all once, but regardless, I would still choose this over Twilight and I just need people to know that because the following review would suggest otherwise.
So let's get to it I guess.
I was really disappointed in this book.  It took me over a year to read it.  That saddens me to no end because of how much love I have for this series.  I wanted ALL of the books to be wonderful and this one simply wasn't.
All of my favourite characters are there and they each play a part, but it just lulled.  I thought maybe it was me being in a rutt and just needed to step away from the book for a bit and then pick it back up again.  I did that, and the same thing happened.  Lull!  The book just simply didn't go anywhere for me.  There was a couple of exciting moments and that was it.
The entire time that Clary, Jace and Sebastian spent together was uneventful in my opinion.  During the same time everyone else was home trying to figure out how to help Clary and Jace and that was pretty much uneventful as well. A few things were okay, but nothing that stands out to me, except for a major thing with Alec's character. View Spoiler »Him and the whole "Magnus being immortal and not aging while Alec does" thing. « Hide Spoiler   That was pretty wild!   We got to see a bit of stuff between Alec &  Magnus and Izzy & Simon but not enough to justify an entire book. We got to see a little bit more of a glimpse into Alec's mind with the thing I mentioned above, again.. very cool. I like Alec's character!  We also got to see a bit more of Simon as well.  We learned a bit more about him and that was nice too.  Gotta love Simon!
Ehhhh I can't even think of the right words to say because I don't like being mean and I really hate giving bad reviews… especially on a much loved series.  I never dreamt it would happen with this series at all.
The only saving grace for me was that the final 4 or 5 chapters totally picked up again and I felt like my old self reading them.  If I could take the first 1-2 chapters and the last 4 or 5 I would give this book the full 5 paw prints  

.
However, I can't do that.  I barely finished this book and it took me over a year to do it, which if I'm being honest to my rating system would be one paw-print or maybe one and a half paw prints.   That just can't be ignored, but because the last few chapters were just as exciting as the other books and gives me a good feeling about going into the finale I'm going to bump it up to two.  Half way through this book I was really scared that I was going to be so disappointed that the final book wasn't going to be of interest to me.  Thank goodness that didn't happen!  I've been waiting for the finale and I've heard great things and the way City of Lost Souls ended gave me the excitement I needed to look forward to the finale instead of dreading it.  So, I'm very excited again, which is great!
 So, although I didn't care for this particular installment in the series, I have

not

lost faith in Cassandra Clare and this series.  It still is one of my all-time favourites and Clary and Jace continue to be one of my favourite book couples. 

 
The world created by Cassandra Clare in this series is just so phenomenal and has so many different aspects to it.  It contains all of my faves… paranormal, vampires, werewolves, magicians, immortals, angels, fallen angels & demons, nephilim, pixies & faeries and all of them are kick-ass characters.  Brilliant mind.  I know I don't sound it with this review, but I'm a HUGE fan!
Related Posts