BEWARE, please! This book contains explicit sexual content and may or may not contain Erotica &/or BDSM content as well. As such, it is not suitable or appropriate for readers under the age of 17 or readers who would be offended by this subject matter. My review may also contain conversation of the same. This warning has been extended to include some NEW ADULT as well.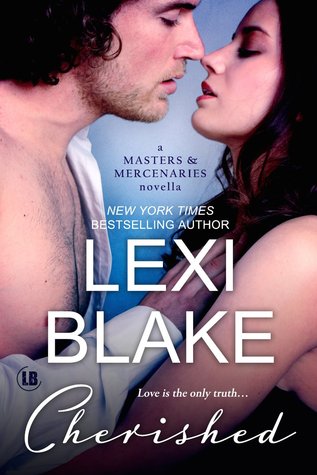 Cherished: A Masters and Mercenaries Novella

by Lexi Blake
Series: Masters and Mercenaries #7.5
Published by DLZ Entertainment LLC on 2014-10-28
Genres: Adult, Contemporary, Romance
Pages: 153
Format: Paperback
Goodreads


A doctor living a double life By day, Dr. Will Daley is one of Dallas's most eligible bachelors, but every night he dons his leathers as one of Sanctum's most desired Doms. He's sworn off looking for a long-term relationship but is captivated by the club's newest member, Bridget Slaten, even though they couldn't be more different. She comes from a world of privilege and he was raised in poverty. When he discovers she needs a date to her sister's wedding, he makes certain he's literally the only man for the job. A woman no longer willing to live in the shadows For most of her life, Bridget hid herself behind her laptop. She can write romantic, sensuous lives for her characters but not herself. Having Master Will as her date to the wedding is a thrilling prospect but he has a special request. He wants her to accept two weeks of his services as a Dom, a lover, and expert in BDSM, and that is an offer she can't refuse. Their sexual chemistry is undeniable, but it's in the tender moments that Bridget realizes she's falling for a man who might never trust her with his heart. A love strong enough to cherish Together in paradise for a week, Will realizes he can't imagine his life without Bridget.  As the wedding approaches, ghosts from their past come back to haunt them and threaten to ruin the peace they've found. With everything exposed, they will have to risk it all to claim the love that can set them both free. A Masters and Mercenaries Novella by Lexi Blake
---




Cherished is book 7.5 of the Masters and Mercenaries series by Lexi Blake.
I'm going to start this post out with a swear word that I use a lot in my personal life but I don't normally post in my reviews. It's just that I'm that adamant about it!  
 Lexi Blake is a FUCKING GENIUS!  
I literally stopped reading my book last night to shout this statement out to anyone who wanted to listen. As it turned out it was only my two dogs and they didn't give a shit unless it came with food, and my husband.  He is currently reading book 2 (The Men With The Golden Cuffs) of this series so he should have listened to me!  Instead he yelled at me because I woke him up, but whatever!  It was worth it!
We have the gorgeous Dr. Will Daley who we met a couple of books back in this series and the lovely Bridget Slaten who we met way back in book 2 I believe.  Dr. Will does not believe in the word "love" and Bridget writes erotic romance novels. Bridget has been longing for Dr. Will for so long and would love to be his sub for even just one night, but he won't give her the time of day. Dr. Will has seen Bridget at the club and now he lives in the same building and yet she never talks to him and gives him the cold shoulder.  There is an upcoming wedding that Bridget needs a "fake fiance" for and she has no intention of asking Will because she doesn't think he's interested and Dr. Will finds out about her needing a date and does some sneaky stuff to ensure that he's he's it.
Even though these books could technically be read as stand-alones, I certainly don't recommend that.  Maybe it's because I love this series so much or maybe it's because we have guest appearances from characters in previous books and you're not going to know who they are meanwhile the book is acting like you should know them…. and you will fall in love with these guys so much that you just have to read all of the stories.
Is the story absolutely perfect?  Of course not.  It's a novella and a bunch of stuff is crammed into less pages, but is as big a story as a full book.  So of course things get a little rushed.  The love happens quickly and I know that's a turn off for some people, however, I wouldn't call this one INSTA-LOVE because she's been loving him from afar for quite awhile… and he takes forever because he doesn't believe in the word. I find very few books really and truly "perfect".  I'm pulling a Dr. Will and saying I don't believe in the word "perfect".
Is the story entertaining and hot?  HELL YEAH IT IS!!  I may have already stated something along the lines of how brilliant Lexi Blake is and I mean that whole-heartedly.  I got the whole story with all of the bells and whistles and steamy scenes all wrapped up in a little novella and I did not at any point feel like I got robbed.  There was nothing missing and it was just as brilliant as the rest of the series has been so far for me.
There is so much about this book and the entire series that I love that I could ramble on forever about it.  Lexi Blake creates her characters in such a way that you couldn't possibly do anything else but fall in love with them.  There is even a character poking around right now that is pretty much loathed by everyone because she's so toxic and I even love her!   Or I love to hate her maybe is more like it.  Either way, that's just how amazing the writing is.  All of the characters are like a family.  It's almost more than that. I feel like if I say "like a family" that I'm not doing it justice.  They are closer than most families.
The humour.  OMG!  It's literally laugh out loud humour.  The dialogue and delivery of lines is so on point that the girl could almost be a stand up comedian.  The love, not just among the stars of each book, but the entire gang for each other.  The loyalty selflessness and bravery of the men… and in some cases the women too.  I can't say enough about this book and the rest of the series.  It's becoming (if it isn't already) my all-time-favourite (romance) series.  I have a lot of other series that I really love and enjoy, but I will stop reading another book to read the latest release in this series.  I did with the last 4 books.  No matter what I was reading, it got put aside until I finished the latest in the Masters and Mercenaries.
The one thing that really stood out for me with this book alone was View Spoiler »how Will set out to learn what he needed to do to make sure he knew what exactly Bridget needed from him to stay with him and not leave him.  He didn't believe in the word "love, but she did.   So, he set a mission in motion to find out exactly what that word meant to her so that he could be that for her.  What did he do?  He read her books.  In those books Bridget (and I thought this was genius) wrote about three brothers and one lucky woman.  Each of the men she gave a certain personality trait that as a whole made up the ultimate dream person for her. One was sweet and caring, one was smart and always knew what to say and one was a Dom!  These three traits made up her perfect man and Will wanted that man to be him.  So he took his lead right out of the words from her book and carried out a series of events to prove to her that he did in fact love her and he learned that the word could be real for him again.  Genius! « Hide Spoiler
The other thing that stood out for me was the fact that Dr. Will can be a badass!
Again, I cannot get enough of the Masters and Mercenaries and I adore Ian Taggart.  He is the character from every single book that I can't wait to see make an appearance.  Lexi Blake didn't disappoint me.  He makes an appearance, big or small, in each book and I LOVE that!  Other characters peek in from time to time as well and that's another thing that Lexi Blake does that I love.  She keeps bringing the family aspect in.  Phenomenal!




Related Posts