BEWARE, please! This book contains explicit sexual content and may or may not contain Erotica &/or BDSM content as well. As such, it is not suitable or appropriate for readers under the age of 17 or readers who would be offended by this subject matter. My review may also contain conversation of the same. This warning has been extended to include some NEW ADULT as well.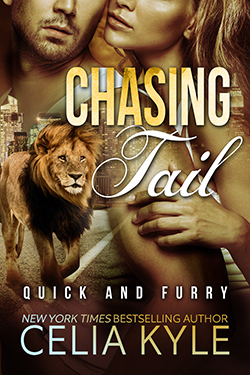 Chasing Tail

by Celia Kyle
Series: Quick & Furry #1
on February 27, 2015
Genres: Adult, Fantasy & Magic, Paranormal
Pages: 98
Format: eBook
Goodreads


Werelioness Penelope Little has a growling lion pacing the library's shelves. Not just any lion, either. He's the most powerful feline in the country. And for some reason, he's got his sights set on curvy, slightly nerdy, and totally frumpy Penny Not-So-Little.

When he finally calms enough to shift… Well, gorgeous doesn't begin to describe him. He's sexy, sinful, and has a smile that nearly brings her to her knees. Even better, he's all hers. Or is he? When a witch is involved in his sudden appearance, there's no telling.

**Stand alone, no cliffhangers.**

Quick & Furry: Love, Laughs, and a Bit of Rawr on the Go.

Part of the Quick & Furry series:
Chasing Tail
Tailing Her
On Her Tail
Heads or Tails
---




Chasing Tail is the first in the Quick & Furry series by Celia Kyle.  
This book is part of a series but they are all standalone novellas.  Characters are brought back in future books, but just as background characters so you can totally read them out of order.
I found this to be a quick and fun little book.  I mean, it's a novella so it's hard to get into the story too much because it ends almost as quickly as it starts.  Yet, the author can pack quite a bit in the few pages that are there.
I've read several of Celia Kyle's shorts and I have to say her style of writing keeps me turning the pages. The stories are full of sexy scenes.  My only complaint is the insta-love-attraction thing, but it's unwarranted because… hey we're talking shifters here!  That's their nature.  They know their mates as soon as they smell them.  So the "insta" thing is totally forgiveable in this case. I just need to remember that I'm reading a shifter story. My bad.
She also makes you like (or love to hate in some cases) her characters right off the bat. That's why I keep reading.  I can't wait to find out how their story turns out. With Penelope, I instantly connected with her and wanted to see her through to the end. Her mate, however, I'm not a huge fan. He turned out to be okay by the end of the book but he sucks at first impressions.  I'm not a lioness though so maybe it's me.
Ultimately though, this book isn't bad at all. The series so far is kind of fun and I find shorts are great little things to pick up to tide you over while you're waiting for a full length book or you're unsure of what to start next. They're exciting enough to read, but not too long.  I'm a huge fan of Celia Kyle.




Related Posts