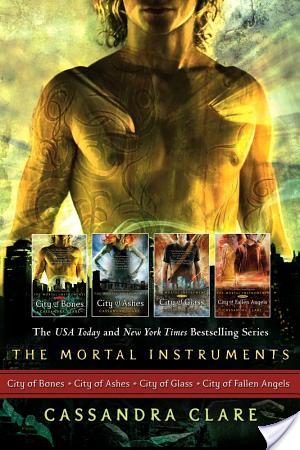 Cassandra Clare: The Mortal Instrument Series (4 books)

by Cassandra Clare
Published by Simon and Schuster on 2011-04-19
Genres: Fantasy & Magic, Paranormal, Young Adult
Pages: 1952
Format: Hardcover
Goodreads


Don't miss The Mortal Instruments: City of Bones, soon to be a major motion picture in theaters August 2013.The first four books in the #1 New York Times bestselling Mortal Instruments series, available in an eBook collection. Enter the secret world of the Shadowhunters with this eBook boxed set that includes City of Bones, City of Ashes, City of Glass, and City of Fallen Angels. The Mortal Instruments books have more than five million copies in print, and this eBook collection of the first four volumes makes a great gift for newcomers to the series and for loyal fans alike.
---




I just got through reading all three installments of The Mortal Instruments trilogy; City of Bones, City of Ashes and City of Glass written by Cassandra Clare. She's a farely new author or certainly new to my collection and personally I have never heard tell of her before these books. Her first book was City of Bones which she started writing in 2004 and has since finished the trilogy. Prior to that she did other work which you'll find in her bio on her website http://www.blogger.com/www.cassandraclare.com .
PHENOMENAL!!! I haven't enjoyed a series of books like this since the entire Twilight series. I'm still a huge twilighter, but I think I'm also a huge Shadowhunter now too. I read all three books in less than 6 days which is fantastic for me considering I work 10 hour days and have very little time for reading and working on my own personal writing projects.
These books have a little something for everyone. Demons, warlocks, werewolves, vampires and the shadowhunters of course who hunt down and kill bad demons and people who break the law in their world. It's also got little romantic snacks going on the side.
I for one was glued to the books for the past 6 days and I can't tell you how happy I am that I had all three installments to read at once rather than waiting for a year for the next book. That would have been entirely frustrating for me.
I wonder where people get these ideas from to write, not one… but 3 books? The talent to weave a tale so gripping and intoxicating to hold a reader's attention from beginning to end is just a phenomenal talent. I've read hundreds if not thousands of books over the years and it never ceases to amaze me.
There were a few areas in the first book where I predicted certain things to come and I wasn't wrong. Usually this would leave me with a bad taste in my mouth. I dislike being able to predict where the book is going. However, having said that, in this particular case I was extremely happy that my predictions were turning out to be correct otherwise, I wouldn't be writing such a positive review right now. I would have been very angry.
I'm completely in love with these characters from these books and unfortunately she's not positive if she's going to continue their story down the road or not. She said that the trilogy was finished, but she may come back and do a follow-up with these characters maybe 10 or 20 years in the future, but it's just a thought floating around… nothing substantial. She wouldn't have to as she left most questions answered and finished the book off quite nicely, but I wouldn't mind delving into their world a bit more. (I'd like me some more Jace!) So hopefully she will continue their story, but if not… well then, I just may have to re-read these ones!!
I for one am looking forward to her new trilogy which takes place almost 200 years before this one.




Related Posts