BEWARE, please! This book contains explicit sexual content and may or may not contain Erotica &/or BDSM content as well. As such, it is not suitable or appropriate for readers under the age of 17 or readers who would be offended by this subject matter. My review may also contain conversation of the same. This warning has been extended to include some NEW ADULT as well.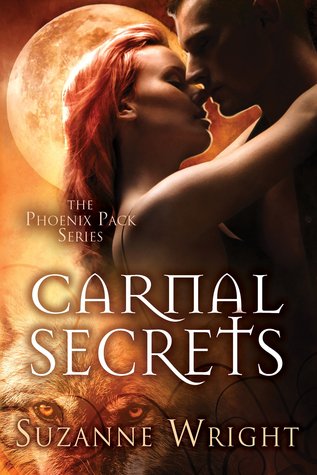 Carnal Secrets

by Suzanne Wright
Series: The Phoenix Pack #3
Published by AmazonEncore on 2014-02-11
Genres: Adult, Paranormal
Pages: 366
Format: eBook
Goodreads


Carnal Secrets Half-shifter Shaya Critchley may hold a submissive role in her wolf pack, but the petite redhead refuses to let an Alpha male interfere in her life. Furious and humiliated after her mate refused to claim her, she runs off to hide among the humans. Why wait around for an Alpha male to love her when he'd obviously prefer to ignore her? Nick Axton can barely control his urges for Shaya, but the Alpha can never claim her - not if he truly cares for her. His degenerative brain condition will eventually destroy him, and he's afraid of turning his mate into his caretaker. Yet when Shaya runs away, Nick can't let her go. He pursues her, vowing to finally claim his rightful mate. And despite Shaya's spirited and passionate resistance, Nick's fiery determination just might be the ultimate aphrodisiac.




I read Carnal Secrets awhile back but have been trying to catch up on some reviews lately. 
What can I say?  I'm a sucker for a good werewolf romance.  This series has been quite good and this instalment is just as good as the first two in the series in my honest opinion.  I always look forward to the next book… which seems to take forever btw.
Shaya, a half shifter, which in the eyes of a lot of other wolves especially the jealous females, makes her less than appealing.  Her own family sucks too for many reasons.  Well, she is one pissed off shifter and rightly so.  Her mate refuses to claim her.  He says it's for her own good because of a brain disorder that he won't tell her about.  Since he does not tell her WHY he won't claim her, she's left to feel nothing but humiliated and heart-broken.  
Nick, the gorgeous and sexy alpha who *thinks* he's being a good guy by not claiming her won't let her go either.  He keeps pestering the hell out of her and constantly visiting her pack just so he can see her and gets jealous at anyone who shows any interest in her.  That's not fair and it eventually drives her to run and hide just to get away from him. 
The rest of the story unfolds with the action packed werewolfy goodness that I love.  The hot and steamy sexy scenes are just to die for.  The over abundance of male testosterone throughout the entire book and series for that matter is just scrumptiously delicious.  The whole book (and series) is just great and so much fun to read.  
The thing about Suzanne Wright is that she packs a whole bunch of yummy male goodness into this book with a whole bunch of hot and steaminess that makes you want to just keep turning those pages, but at the same time there is a really good story behind it all packed full of emotional real-life feelings.  You can really connect to the characters feelings and their thought process.
I really like this series!  Can't wait for the next one.




Related Posts