BEWARE, please! This book contains explicit sexual content and may or may not contain Erotica &/or BDSM content as well. As such, it is not suitable or appropriate for readers under the age of 17 or readers who would be offended by this subject matter. My review may also contain conversation of the same. This warning has been extended to include some NEW ADULT as well.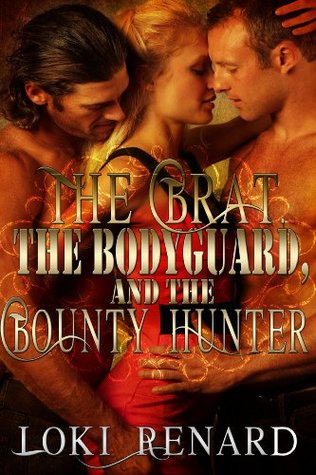 The Brat, The Bodyguard And The Bounty Hunter by Loki Renard
Published by Stormy Night Publications on 02 April 2014
Genres: Contemporary, Romance
Pages: 113
Format: eBook
Goodreads


When runaway heiress Fiona Fayrefield hires bodyguard Harris Kingsley to protect her from her meddlesome father, Harris decides that his job includes putting the spoiled twenty-four-year-old brat over his knee for a long, hard spanking when he feels it necessary. For the first time in her life, Fiona discovers that doing whatever she wants, whenever she wants, is no longer an option.

After her father sends ex-military bounty hunter Tom Waters to bring her home, events take an unexpected turn and the two men soon join forces to protect Fiona, to tame her rebellious ways, and to bring her more pleasure than she ever imagined possible. But when they learn that she has more skeletons in her closet than they were counting on, will her fortune come between Fiona and the loves of her life?

Publisher's Note: The Brat, the Bodyguard, and the Bounty Hunter is an erotic novel that includes spankings, anal play, sexual scenes including threesomes, exhibitionism, elements of BDSM, and more. If such material offends you, please don't buy this book.
---
The Brat, the Bodyguard and the Bounty Hunter is a standalone book… and to be honest I'm glad because I wouldn't have read any further books.  I barely finished this one. So we have a poor little rich girl (Fiona Fayrefield) on the run from her mean old dad. She hires a bodyguard (Harris Kingsley) to protect her and her father hires a bounty hunter (Tom Waters) to track her down. Low and behold bounty hunter and bodyguard meet up and know each other and they both want to protect poor little (mega spoiled) rich girl.
I just don't know what to say or even how to start this review, so I think I'll just do this:
I really like Harris Kingsley. He seemed like a strong character and I liked him right away ~ I just think more time should have been spent on his character. I wanted more about him.
The settings were pretty cool ~ but we didn't get to see much of them.
The concept of the story was kind of interesting. Poor little rich girl needs saving. ~ It was ruined by spending way too much time on how spoiled she was rather than her vulnerable side. I know some rich girls can be really spoiled, but Fiona's character was in the extreme and not really believable. She was supposed to have a vulnerable side, but we didn't get to see much of it.
The author worked a bit of BDSM into the mix but to me was way off the mark. I'm not an expert but I can hold my own on the subject. To me it showed that there wasn't much research done in this area. Harris and Tom were both dominant but only with the disciplinary spankings and not so much with the pleasure part of it. Fiona was not even given or asked to choose a safe word. If that's the case, then when she said "NO" the spankings should have stopped. Tom especially seemed to be really harsh in the spanking side of things. That's not to say that the author didn't make sure that Fiona enjoyed it, but it wasn't evident at first. I did not enjoy reading the "spankings" and I read a lot of BDSM books. This area of the story lacked immensely.
The sex scenes (BDSM aside) were just okay. Not a lot of heat and very forgettable. I didn't believe the connection between the three characters and if there is no connection, there is not romance.
There are a few more things that I could comment on, but I don't want to get into them because I can't do it without posting spoilers. There really isn't much more I can say. There were a few good things that kept me reading until the end, like Harris and some excitement throughout but ultimately it wasn't enough to have me like the book I'm afraid.
Related Posts