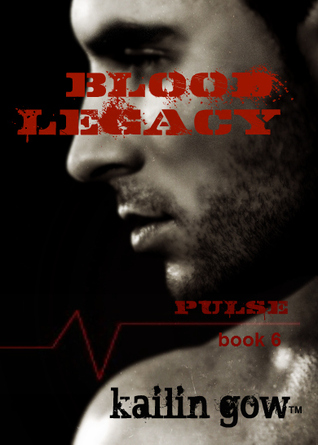 Blood Legacy

by Kailin Gow
Series: Pulse #6
Published by Sparklesoup Studios on 2011-11-30
Genres: New Adult, Paranormal
Pages: 248
Format: eBook
Goodreads


Kalina's life's blood continues to cause changes in her, and as she embarks on a journey to find Octavius, Max, and other Carriers, tragedy hits that changes everything she believes in and stands for in this exciting new addition to the PULSE Vampire series.
---




Again… at the risk of repeating myself… another great installment.  When I'm reading about these guys I just can't put the book down.  The story is getting so exciting with each installment and not that I want to rush the story but I cannot wait for books 7, 8 and 9 so I can finally get to the end of this story and get my happy ending that I want.  There are just so many things that can go wrong and so  many things that need to change and only one decision in my opinion that needs to be made.  Then again, if all this chaos wasn't happening then the book would be boring I suppose so I shouldn't complain.
Kailin Gow is a freakin' genious!!  I love her books!  I haven't read all of them but I am reading the Pulse series, the Frost series and the Wicked Woods series and they're fantastic!    I have two more series that I haven't read yet but plan to.  She's phenomenal!




Related Posts