I received this book from the author and/or publisher FREE of charge in exchange for an honest review. This does not affect my opinion of the book or the content of my review.
BEWARE, please! This book contains explicit sexual content and may or may not contain Erotica &/or BDSM content as well. As such, it is not suitable or appropriate for readers under the age of 17 or readers who would be offended by this subject matter. My review may also contain conversation of the same. This warning has been extended to include some NEW ADULT as well.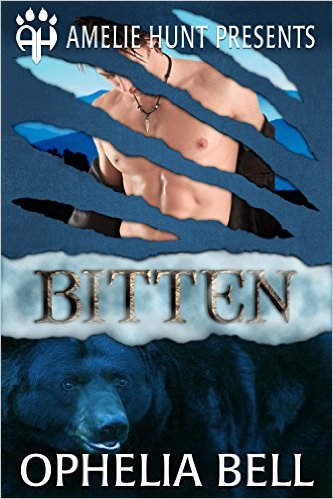 Bitten

by Ophelia Bell
Series: Black Mountain Bears #2
on 9 October 2015
Genres: Adult, Paranormal, Romance, Fantasy & Magic
Format: eBook
Buy on Amazon
Goodreads



To be a worthy male in this world—in any world—you must revere your female above everything else.

Jasper Stonetree used to think he knew what he wanted, but meeting the beautiful pair of ursa who just saved his life changes everything.

Autumn Sundance and Gunnar Windchaser have him twisted so tight he can't think straight.

His entire life, Jasper's cared more about his family. Romantic entanglements only lead to pain, after all. Yet after following his cousin into a fantasy realm he had never imagined—his birthplace, no less—he begins to see the truth of what he is.

He is an ursa male, and one of two chosen to be the future mates a high-ranking female.

And that female is in trouble.

On the chase to find the missing piece of his incomplete soul, Jasper is forced to make a choice. Leave behind his true family—his blood. Or take a step there will be no retreat from to save the woman he loves and hopefully forge a new family outside the ursa Sanctuary.
---
I took part in Amelie Hunt's Arc Wave promo. Whoever signed up was given (for an honest review) five series of three books each of ARC's from five different authors to read and review by October 9th. These are all novellas and I was a little stumped on how I was going to do up the reviews, but decided to break them into five posts with each having all three books by the same author.
So let's get started!  
---
Bitten is book #2 in the Black Mountain Bears series by Ophelia Bell.  
Loved it!  Loved it!! LOVED IT!!!
I don't know where to begin.  The story picked up right where Clawed left off and we didn't miss a beat. This was Jasper, Autumn and Gunnar's story and it was awesome!
Aiden was mentioned in the last book but we got to finally meet him and I have a feeling we're going to see him in the near future with book #3. Plus, as an extra added bonus we got to touch base with characters from the first book.  Love that in any series!
I really can't say enough about this series so far.  Ophelia Bell really knows how to weave a little magic in her writing and I was hooked in Clawed and Bitten is no different except maybe even a little better because the story has developed even more. Her writing flows so effortlessly and I adore the little world that has been created here.
In A Nutshell:
Awesome!  Loved it! Can't wait for the next book!
Related Posts