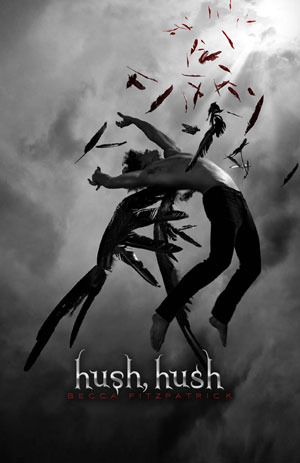 Hush, Hush

by Becca Fitzpatrick
Series: Hush, Hush #1
Published by Simon and Schuster on 2012-05-22
Genres: Paranormal, Young Adult
Pages: 416
Format: Hardcover
Goodreads


Nora Grey is responsible and smart and not inclined to be reckless. Her first mistake was falling for Patch. . Patch has made countless mistakes and has a past that could be called anything but harmless. The best thing he ever did was fall for Nora. . After getting paired together in biology, all Nora wants to do is stay away from Patch, but he always seems to be two steps ahead of her. She can feel his eyes on her even when he is nowhere around. She feels him nearby even when she is alone in her bedroom. And when her attraction can be denied no longer, she learns the secret about who Patch is and what led him to her, as well as the dark path he is about to lead her down. Despite all the questions she has about his past, in the end, there may be only one question they can ask each other: How far are you willing to fall?.


I've been torn on this review, which is why it's taken me a few days to post it.  I could not put the book down!  So I want to give the author applauds for keeping my interest at the end of each chapter to make me want to dive into the next chapter with no regard for how late at night it was.   It truly was interesting and each chapter ended with a suspense that just made you turn that next page. 
However, there are parts of the book that make me want to sit and say "What the hell was that??"   Thank goodness there is a sequel coming in Fall 2010 called Crescendo.  I can't wait because there were so many unanswered questions that just simply drive me crazy.  I don't mind so much when I know there is at least a 2nd book coming.
I love Patch!  I know a lot of reviews that I've read say that they loved the book but thought that he was not a "nice" character and kind of scary.  Well, I agree he was kinda scary and not very nice at all, but I think that's what makes me like him even more.  You just have to love the quiet dangerous guy!  He's sexy and awesome.   I can't wait to read more about him.
I don't have too much of an aversion to Nora.  She's okay.  She's strong and smart but there was just something about her that was bugging me.  I can't quite put my finger on it.  If it comes to me later on I'll come back and post it.
The story was great!  I loved it!  I repeat the writing was really great.  I couldn't put the book down.  The cover is gorgeous!  I really want to give it 5 stars on some points of view but only 3.5 on other points of view.  The questions that leave me hanging make me want to go low but the fact that my attention never once swayed stops me from doing that.  The bottom line simply is the fact that I thoroughly ENJOYED this book, unanswered questions or no unanswered questions.  So I'm back up to 5, but then I go back to the thought that I can see where some people may not like it.   So 4.5 final answer!




Related Posts