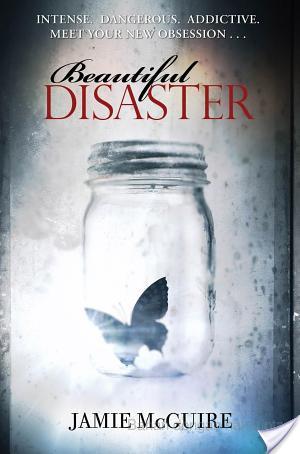 Beautiful Disaster by Jamie McGuire
Series: Beautiful #1
Published by Simon and Schuster on 2012-07-12
Genres: Contemporary, New Adult, Romance
Pages: 432
Format: Paperback
Goodreads


The new Abby Abernathy is a good girl. She doesn't drink or swear, and she has the appropriate number of cardigans in her wardrobe. Abby believes she has enough distance from the darkness of her past, but when she arrives at college with her best friend, her path to a new beginning is quickly challenged by Eastern University's Walking One-Night Stand. Travis Maddox, lean, cut, and covered in tattoos, is exactly what Abby wants—and needs—to avoid. He spends his nights winning money in a floating fight ring, and his days as the ultimate college campus charmer. Intrigued by Abby's resistance to his appeal, Travis tricks her into his daily life with a simple bet. If he loses, he must remain abstinent for a month. If Abby loses, she must live in Travis's apartment for the same amount of time. Either way, Travis has no idea that he has met his match.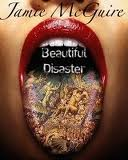 ---




This was exactly what it says.  A complete disasterous relationship but entirely beautiful.  This was truly a fantastic little story.  No vamps or werewolves or faeries or angels!  Just a few teenagers with some skeletons in their closet in their first few years of college finding true love and discovering what's really important.   I know this seems like a very short review but without giving a bunch of spoilers there really isn't that much more to say. I LOVED IT!!!   I loved the friendships and the relationships and the problems and the solutions and the tough sides and the vulnerability.  Just everything about it.  I think this book should be read by everyone!
I just had to come back and add this…. I have a million and one books on my to be read pile.   Seriously, I'm having a hard time getting to them all and what am I doing right now?  Re-reading Beautiful Disaster.  I tried to read another book yesterday after finishing this one and I found myself looking up favourite quotes from this book and then the next thing I knew I'm full-on re-reading it.   It's just as good if not better this time 'round.  I've re-read books before but not immediately after finishing one.  Wow ~ awesome story!
(back again…) I just had to add something else today.  I noticed something this time throughout the book.  Even though I knew the outcome of this story it didn't deter me from being upset when my characters were upset and being happy when they were happy.  You would think knowing the outcome would change that but it didn't.  If possible I was even more emotional this time through.  The first time I read it I finished it in less than 2 days and this time I'm actually taking a bit more time and re-reading favourite chapters throughout.   I'm going to have to add this to my all-time favourite books list.
Related Posts