BEWARE, please! This book contains explicit sexual content and may or may not contain Erotica &/or BDSM content as well. As such, it is not suitable or appropriate for readers under the age of 17 or readers who would be offended by this subject matter. My review may also contain conversation of the same. This warning has been extended to include some NEW ADULT as well.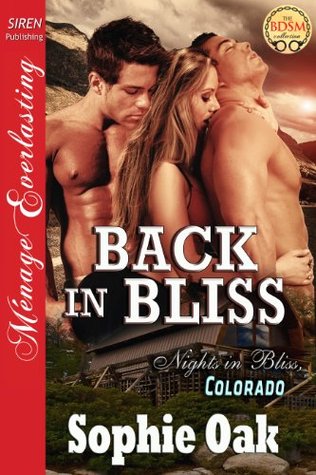 Back in Bliss

by Sophie Oak
Series: Nights In Bliss Colorado #9
Published by Siren Publishing on 19 April 2013
Genres: Adult, Contemporary, Romance
Pages: 284
Format: eBook
Goodreads



Logan Green is back in Bliss, but only for a few weeks to help out at the sheriff's office. Everything changes when Seth Stark strolls into town with Georgia Dawson on his arm.

Seth's arrival is anything but a happy accident. He always dreamed of a big house on the river and a wife he could share with his best friend, Logan. After building a software empire, his only goal has been to make that dream come true. He just needed the perfect woman.

Georgia is still haunted by the dark, troubled Dom who saved her life. She can't get Logan out of her head. Her boss brought her to Bliss to help him outfit his new summer home, but when Logan Green walks through the door she discovers Seth has something different in mind.

Seth has a plan for their mutual happily ever after, but he never dreamed that coming home would put all their lives in danger.

** A Siren Erotic Romance [Siren Menage Everlasting: Erotic Consensual BDSM Cowboy Menage a Trois Romance, M/F/M, spanking, sex toys, HEA]
---




Back In Bliss is book #9 in the Nights In Bliss series by Sophie Oak.
Seth & Logan's story
Apparently Logan was a background character that Sophie Oak had once decided that she wasn't going to spend too much time on, and then she changed her mind. I'm guessing that Logan got to her and in turn she wrote him in a fashion to get to us, as readers. I say this because even as I was reading about Logan in previous books he kept niggling his way into my psyche.
After the whole Russian mob thing happened a couple (or so) books back, I've been wondering how he was doing. Sophie Oak treated us with tidbits here and there about him, which just piqued my interest further. I wanted his story, dammit!!! Well, here it is and it does not disappoint! It's fantastic! I'm so glad that she decided to elaborate on his character.
Seth, Logan and Georgia are all previous characters from several books in both the Nights In Bliss and Texas Sirens series. With the help of some friends and one particularly adorable brat named Kitten, Georgia & Seth find each other. That puts Seth and his devious planning brain into action. He has a goal and will stop at nothing to accomplish it. He wants to be with his best friend, Logan and Georgia.
The story itself is super good, but what I liked most was the healing process for Logan. It's quite a moment when you actually see the light click on for this guy when he realizes that he's worth it! He's worth being loved. He's worth being healed. He's worth all of the time and effort that people are putting into his healing. I say "people" but they're so much more than that. They're family and friends. Leo, Julian, Kitten, Wolf and others from Texas Sirens plus a ton from Nights In Bliss all there for Logan. He just needed to accept it.
Talk about spunky little spitfires… that is Georgia in a nutshell. She is a phenomenal character! In Bliss for a very short time and she's already making friends. She's a no nonsense type who says it like it is. She earned Rachel's respect so she's pretty awesome!
In A Nutshell:
Awesome! Great humour, great story, great characters, fantastic writing to tie it all together. A real "feel good" read. (… not to mention the amazing romance and hot sex!) You cannot lose with this book. I know most of these books could technically be read as standalones, but I wouldn't. I would read every book in both series. They are both fantastic series.








Related Posts