BEWARE, please! This book contains explicit sexual content and may or may not contain Erotica &/or BDSM content as well. As such, it is not suitable or appropriate for readers under the age of 17 or readers who would be offended by this subject matter. My review may also contain conversation of the same. This warning has been extended to include some NEW ADULT as well.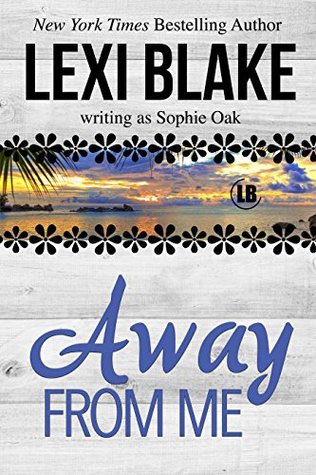 Away From Me by Sophie Oak
Published by DLZ Entertainment on 6 February 2018
Genres: Adult, Contemporary, Romance
Pages: 125
Format: Paperback



Re-released in a second edition with updates.

Shattered by the loss of his wife, Callum Reed is a man surrounded by rules designed to protect him. He rebuilds his life with careful discipline, but can't deny what he feels when he meets the lovely Gabrielle Sullivan. She's everything he wants in a woman, but he views all relationships as contractual. Despite her misgivings, Gaby signs his contract and becomes his perfect partner. Until the night she breaks his cardinal rule.

After three years of perfect obedience, Gaby declares she wants love and she isn't settling for less. Love isn't in their contract, so Cal lets her go. But Gaby has a secret reason for leaving. When Cal discovers the truth, nothing will stop him from following her.

On a secluded island paradise, Callum will do anything to prove he's the perfect husband for his defiant love.
---
Away From Me is a standalone from Sophie Oak and honestly, I forgot how good this book was!  I read it years ago and now that all of Sophie Oak's books are being re-released with updated covers and some new content I have decided to read them all again as they come out.  Especially since most of the new content is weaving the Masters and Mercenaries characters into her previous books.
This is a novella, but full of some serious emotions and a lot of hot scenes!
Callum has some skeletons which result in his "rules" (well… particularly one rule… "do not fall in love")  and he panics if they aren't followed. Abby on the other hand stayed with him for three years and pretended she was something that she wasn't.  Neither one of them was honest with each other or themselves.
Initially I wanted to call Callum out for the douchebag that he was, but I quickly realized that he's just a silly lion with a thorn in his paw.  Abby really wasn't much better because she lied to her Dom by omission, which in any Dom's eyes is still a big 'ol fat LIE.
It is a great story! I thoroughly enjoyed this… again.  It was better this time around.
I am curious if Sophie Oak plans to revisit these characters. Callum and Abby are great characters, but we met a few others that I'd like to hear more about.  Cody for one is adorable and he played a huge part in this story.  Also, Greg & Heather.  I would like to hear more about those two.  There was a big spanking we missed!  Not to mention the Island Resort owned by Greg… I can see just about all of Sophie's and Lexi's characters in this place!
I don't think I will ever tire of Sophie Oak or Lexi Blake any time soon.


Related Posts